Jennifer Carroll, the Somerton-raised finalist on Bravo's Top Chef, has been making noise about opening her own restaurant in her hometown since she left her previous job last summer.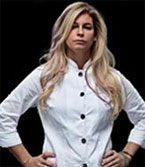 She has settled on a name: Concrete Blonde.
But she has no location yet. She and a potential investor were briefly linked to a spot less than a block from her former kitchen, 10 Arts by Eric Ripert at the Ritz-Carlton.
The evening of Monday, April 23 will find her behind the stove at Meme restaurant at 22d and Spruce Streets.