America has been credited or blamed with super-sizing everything food-related - Big Gulps, Big Macs, jumbo tubs of popcorn.
Taiwan gets the nod for Cheers Cut, a bright and energetic franchised quick-serve that just opened a branch in Chinatown (122 N. 10th St., 215-829-9999).
Cheers Cut specializes in chicken and squid. Its motto, honed at the island's night markets, is "fried madness."
Madness, all right.
The signature item (shown here) is the Ninja crispy chicken - a deep-fried, somewhat katsu-like cutlet that is served in a cardboard sleeve that instructs you to tear away at the paper as you go. And you go and go and go. At 12 ounces, the Ninja measures 11 inches from end to end. You also get disposable gloves to keep your hands clean.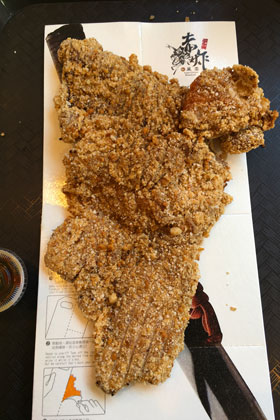 The Ninja brought tender breast meat and a bit of rib meat under a crunchy breading whose flavorings included garlic, ginger, five-spice, and pepper. And all for $7.95.
Combo platters, adding rice or fries, are available, too.
It's counter ordering. Most customers get takeout, as seating is snug.
Scan of the menu is here. The website cheerscut.com points to a branch in New York City.