Another change in the Society Hill/South Street scene: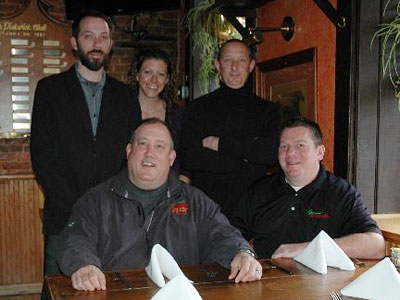 Cavanaugh's Patrick Pawliczek and Ken Hutchings have taken over The Dark Horse (421 S. Second St.) - which locals may fondly remember as the Dickens Inn - for their fourth restaurant, including University City, Rittenhouse and the Delaware waterfront.
Besides the series of neat little nooks and rooms in the late-18th-century building, the Dark Horse was known, for a spell, for the food put out by chef Ben McNamara, one of the city's early practitioners of gastropub cuisine. (His resume includes New Wave Café, St. Stephen's Green, and Philadelphia Bar & Restaurant.)
McNamara is back in the kitchen at the new Cavanaugh's, and he's introducing family friendly deals such as the Family Roast Nights on Thursdays. They feature carved beef, turkey or pork dinners with a choice of soup or salad for $12.95 per person. Kids under 12 eat for half-price and their desserts are free. Friday night's special is $17.95 prime rib.
Also returning is Dark Horse barman Jim Crowley, who held court in the Dickens' street-level Cafe Bar bar for decades. Football is back and Paul Sherwin will host Weekend football EPL, FA Cup Match viewing parties, and Champion League play on Tuesdays.
McNamara also figures into plans for a Cavanaugh's Bakery Brand featuring specialty cakes, desserts, breads, and sweet and savory pies for commercial and retail distribution.
GM Jon Edwards, last at Fado, was opening manager at PYT in Northern Liberties.
Hours are 2:30 p.m. to 2 a.m. Monday through Thursday, 11:30 a.m. to 2 a.m. Friday, and 9:30 a.m. to 2 a.m. weekends.
Photo: Seated from left, Patrick Pawliczeck, Ken Hutchings. Standing from left, GM Jon Edwards, events manager Beth Holton, and chef Ben McNamara