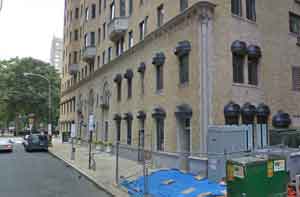 There's even more caffeine in store for Rittenhouse Square.
Already home of the flagship La Colombe on 19th Street north of the square, this spring it's getting the first Philly branch of New York's Joe Coffee Bar, at 1845 Walnut. Metropolitan Bakery is opening a cafe on 19th Street, south of the square, in a matter of days.
Now cast your eyes to the west side of the square and the 222 Rittenhouse condo building. Cafe L'Aube - the roaster/creperie with locations at 17th and Wallace and in the new NextFab studio on Washington Avenue - wants to take a wee spot in the 222 Rittenhouse building, on the Locust Street side. Zoning is pending.
Owner Jean-Luc Fanny and manager Rachel Roberts say they envision the look as Art Nouveau with a French influence and hope to open in the spring.
Image: Google Street View; entrance is to the left of the ugly blue tarp.