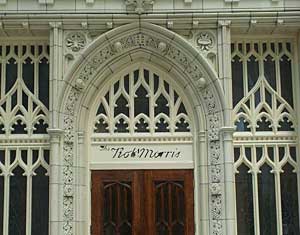 Animo - the quick-serve juice and burrito bar that's a hit in Haddonfield - is targeting early April for its second location.
Brothers Joe and Anthony Gentlesk are taking ground-floor space in The Arch, the apartment building under construction across from the Comcast Center at 17th and Arch Streets.
The hundred-year-old building, built as a hotel and once known as the Robert Morris Building, has many historic touches, including stained glass and the nifty Gothic entrance that Animo will use.
Joe Gentlesk says the Philly location's menu will be the same as Haddonfield's: juices, burritos, soups, salads.