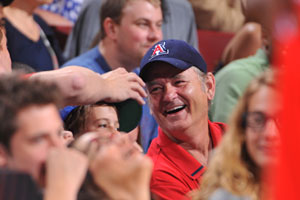 Actor Bill Murray is a basketball fan. He is also a native Chicagoan. His son Luke is assistant coach of Towson University's basketball team. That's in suburban Baltimore, two hours from Philly, up I-95.
The Bulls were in Philly for a playoff game Friday night. (That's him in the stands; photo by Jesse D. Garrabrant, NBA Photos.)
That meant: road trip.
Solid Midwesterners they are, father and son opted for comfort food while in Philly.