Big ups for Howard Eskin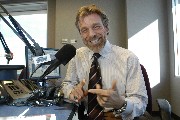 WIP talker Howard Eskin will get this year's lifetime achievement award at the Philadelphia Achievement In Radio's luncheon.
Big ups for Howard Eskin

WIP afternoon talker Howard Eskin will be the man of the hour on Nov. 6 as he gets a lifetime achievement award at the 15th annual Philadelphia Achievement In Radio (AIR) Awards, which are the local radio version of the Emmys. (Unlike the local Emmys, though, all the stations participate.)
Eskin, 57, started in sports talk in 1979 and logged his 5,000th sports-talk show a year ago. He went to TV with KYW in 1982. In 1986, the year he joined WIP, he started a five-year association with Fox29, launching its 10 o'clock news. From 1992 to 1996, he was back at KYW. In 1996, he started at NBC10, where he's since contributed to "Sports Final," except for a year in 2005-06.
The AIR Awards are a benefit for the March of Dimes.
Previous AIR lifetime-achievement recipients:
1994: Hy Lit // 1995: Ken Garland // 1996: Dean Tyler //1997: Joe "Butterball" Tamburro // 1998: Richie Ashburn // 1999: Don Cannon // 2000: Gene Hart // 2001: Loraine Ballard-Morrill // 2002: Harry Kalas // 2003: Pierre Robert // 2004: Merrill Reese // 2005: Mary Mason // 2006: Sid Mark // 2007: John DeBella