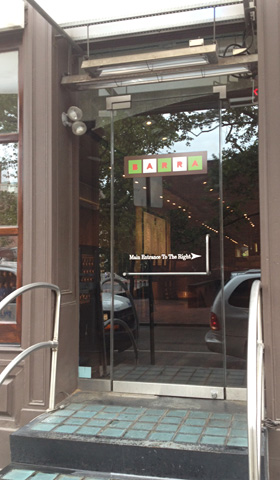 Gordon Dinerman is following up on his East Passyunk hit, Birra, with a sibling called Barra.
Opening tonight (!), he is partnering with Rob LaScala at 239-241 Chestnut St. in the space that housed LaScala's Rocchino's and Azione for the last six months; before that, it was Paradigm and Dolce.
Dinerman describes Barra as Birra's younger but more dynamic sibling, with a more sophisticated menu plus serious bar program featuring cocktails, local and international craft-brewed beers, and a late-night lounge scene Thursdays through Saturdays. LaScala put in a serious oven when renovating over the menu.
Initially it will be open seven days a week for dinner, happy hour, and late night. Brunch and lunch will come on later.
Rustic menu meant for sharing from chef Andrew Fox, who will split his time between both spots, and expand his pizza and fresh pasta selections while replicating some of Birra's most popular dishes such as scampi prawns, mussels (red and white) and mushroom salad.
New dishes include fresh-made pappardelle with sauteed Maine lobster; black pepper fettuccine carbonara with house-cured pancetta and fresh peas; and filet mignon with heirloom tomato caprese. Fox plans to include Birra's meatballs with the addition of house-made ricotta to create what he calls "a really delicious pairing made for sharing."
After dinner Thursdays through Saturdays, Barra will morph into a high-energy lounge. Barra's late-night menu will include coal-oven pizzas and a small menu of "snacks" available till 1 a.m.