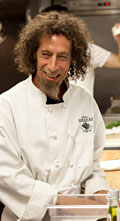 David Ansill has settled in nicely at Bar Ferdinand in Northern Liberties, five weeks after owner Owen Kamihira flew him back to his hometown to escape an uncomfortable professional situation in Jamaica.
The two go back to the olden days of Copabanana in the '80s. Ansill and Kamihira's brother Eben motorcycled through Spain together. Which helps, since Ansill is now doing Spanish. His resume includes his own Pif and Ansill Food + Wine, plus Ladder 15, Serrano, The Continental, Lucy's Hat Shop, and Judy's Cafe.
Ansill's own menu will debut in late September. But starting Aug. 2 and running every Thursday night, he'll do a $40 tasting menu. Thursday's features the tomato: a first course of Heirloom Tomato Gazpacho, crab; a second of Oil Poached Cherry Tomatoes, olive purée; followed by Spanish Tuna, tomato saffron conserva; local tomatoes, mint, olive oil; Pan Con Tomate, jamon serrano; Grilled Mackerel, tomato water, artichokes; Lamb, pine nuts, roasted tomato rioja; and an eighth course of dessert.
Photo: Anthony Rugnetta