Ambler doings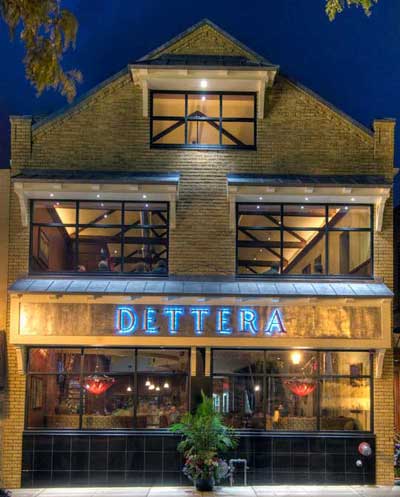 The Montco town has two restaurant newcomers.
Ambler doings
Michael Klein, Philly.com
Ambler's small-town main street (Butler Pike) has been experiencing a bit of a revival.
A branch of the Lafayette Hill Italian favorite From the Boot opened in the space next to the movie theater that was Agave and Ralph's (110 E. Butler Pike, 215-646-0123). It's dispensing moderate-priced Southern Italian fare (most entrees $13 to $16) in a stylish, family-friendly atmosphere that features a bar and a communal table. The liquor license is not expected to arrive till late October, so it's BYOB.
Across the street, open for several months now, is Dettera (129 E. Butler Pike, 215-643-0111), a wine bar by developer Frank Lutter. American cuisine, downtown look, downtown prices. (Check out the entree prices, which linger in the $30s and gust into the low $40s.)
Deterra, set up in a historic building, has a dramatic bar (with TVs) and a smaller dining room with oversize round banquettes. There's an outside deck between the buildings that features a brick fireplace. The second floor, with a separate pillow-filled lounge, also has windows looking out onto the main drag and an open view of the first-floor bar. A vineyard drying rack suspended over the bar spans the main and second floor dining areas.
Chef Thomas Groff, who previously owned Blue Sky Cafe in East Norriton, has his own organic spice and herb garden. Here's the dinner menu, which includes your basics (salads, soups, crabcakes, $14 kobe burger on the appetizer list), fancy pizzas, and mains (seafood, beef, lamb dishes, and for whatever reason, Kobe meatballs).
Wine list has 40 by the glass, 120 by the bottle.

How the name came about: During the renovation, Lutter's crew uncovered the original granite nameplate in the building's exterior. This nameplate, hidden for decades in the facade, identified the building's original owner, Mathias Dettera, a grain and seed wholesaler in the early 1900s. This stone now is positioned within the mahogany paneling above the main bar.
It's open weekdays for lunch, weeknights for dinner, plus late night till midnight.