The Monday night "industry night" festivities at Alla Spina (1410 Mount Vernon St.) on Aug. 5 will take on a decidedly rural air.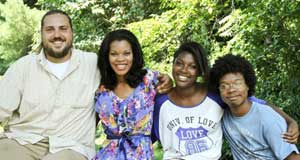 Barbie Marshall (of Hell's Kitchen) and Ian Brendle of Lancaster County's Green Meadow Farm are behind the menu, which includes:
Loaded Fries topped with Capon, Beans, and BBQ Sauce
Caramel Corn with Slow Roasted Pork Belly and Salted Peanuts
Corn Frittata with Calabrese Soffritto and Ricotta
Vegetable Spiedini (skewers) with Pesto Sauce
Stone Fruit Cobbler
Drinks are discounted and food is free, and DJ Adam Garbinski will spin.
You need a restaurant-industry pay stub to get in, starting at 10 p.m.
Details are here.
Photo: Ian Brendle, Barbie Marshall and kids. (KANDE Photography, via Facebook)