Huge news for East Passyunk: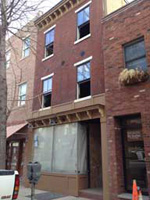 Pumpkin chef de cuisine Christopher Kearse, whose resume includes Chicago's Tru, Alinea, and Charlie Trotter, Napa's French Laundry, and Philly's Lacroix and Blackfish, is going solo.

Kearse has signed a lease at 1911 E. Passyunk Ave,, which the nonprofit Passyunk Avenue Revitalization Corp. has been rehabbing.
Kearse tells me that the BYOB - bearing his middle name, Will - is "not going to be like Pumpkin, but it's going to be like Pumpkin." That is, "French - but special, not 'special occasion.'"
He is going for a "small restaurant feel," with plates showing finesse. Tight menu: four apps, five entrees (about $25).
He is shooting for the end of August,
He says Pumpkin's Hillary Bor and Ian Moroney have been generous, helping him with such matters as the lease.

Next door, 1909 E. Passyunk is being readied as a Franco-American bar called Noir.