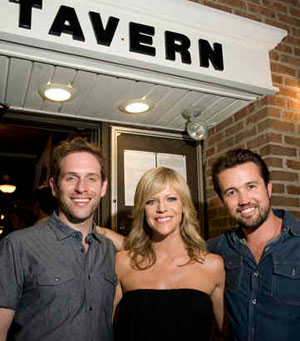 Husband and wife team Rob McEhenney and Kaitlin Olson from It's Always Sunny in Philadelphia and his band of fellow St. Joe's Prep alumni - who opened Mac's Tavern at 226 Market St. in Old City in 2010 - are opening a second bar and they have cinched the location:
It's 1904 Chestnut St., in the Rittenhouse Square area.
That location, once a Little Pete's diner, more recently devolved into a series of forgettable bars/clubs, including Kokopelli, Pearl and Akoya.
The orange sign was posted in the window Tuesday, March 12.
Details, including timeline, will dribble out soon.
Update: Deal died.
Photo: Glenn Howerton, Kaitlin Olson and Rob McElhenney outside the Mac's Tavern in Old City at its 2010 opening. (KRISTON J. BETHEL / Staff photographer)