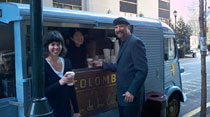 After 19 years, the La Colombe shop on 19th Street between Sansom and Walnut Streets is getting a redecoration, which explains the coffee truck parked outside.
It's selling joe for a buck a cup - the 1994 price. Update: City officials forced the truck to move Thursday.
Co-owner Todd Carmichael says he hopes to reopen the store Saturday (3/17). Among the interior changes: new floors, a stone inlay instead of carpet runners, new paint.
"Almost two decades of 1,000-plus people a day and things can get worn," Carmichael says.
Photo via Facebook.