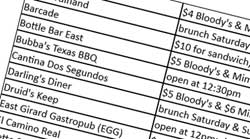 Food blogger Lee Porter of ChocolateCoveredMemories has come up with an ugly but useful guide to brunch deals around town.
Sunday Phunday is just a spreadsheet of brunch joints, broken down by neighborhood, with a basic description tacked on.
During the last Phillies season, Porter created a spreadsheet guide to beer at Citizens Bank Park.
Porter aays his own brunch faves are Johnny Brenda's (especially gospel brunch with DJ DNA & amazing Bloody Marys), Matyson for homemade bagels & BYO, and the Khyber for everything. For drink specials, East Girard Gastropub's bottomless deal, Wishing Well's bottomless deal, and McCrossen's $3 deals rock his world.