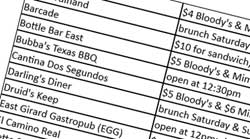 Food blogger Lee Porter of ChocolateCoveredMemories has come up with an ugly but useful guide to brunch deals around town.
Sunday Phunday is just a spreadsheet of brunch joints, broken down by neighborhood, with a basic description tacked on.
During the last Phillies season, Porter created a spreadsheet guide to beer at Citizens Bank Park.