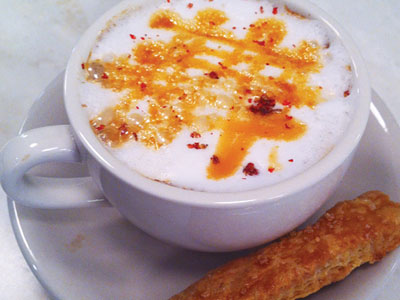 As if the pies aren't rich enough at Magpie Artisan Pie Bakery & Boutique (1622 South St.), Holly Ricciardi has introduced a line of lattes whose syrups are made in-house, as well as hot chocolate with house-made vanilla bean marshmallows.
A latte reminiscent of her Buttery Caramel Apple pie includes La Colombe espresso, warm milk, cinnamon, nutmeg, topped with buttery caramel sauce and pink peppercorn. The Pumpkin Spice Latte syrup is made with housemade pumpkin butter pie base. Other flavors: Vanilla, Orange Cardamom, Peppermint, and Peppermint Mocha.
The 12-ounce lattes sell for $4.50 each and the hot chocolate is $3.50. They come with a crispy "pie fry" - made from the pie dough - for dunking.