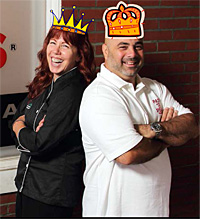 Two South Philadelphians at the vanguard of their respective professions are getting together for a little fun competition.
Frank Olivieri, owner of Pat's King of Steaks, who slices and chops beef on well-seasoned grills for a living, will take on Christina Pirello, the vegan chef, cookbook author, and TV personality (Christina Cooks), in a cook-off from 2 to 5 p.m. Oct. 27 outside of Pat's at Ninth and Wharton.
A $10 ticket, available at Pat's or via www.christinacooks.com, will get you a sandwich and voting rights.
Can Pirello's vegan "steak" outpoll the classic beef version?
Proceeds will go to Pirello's nonprofit, the Christina Pirello Health Education Initiative, which creates programs in schools and for TV.