Archive: September, 2011
Michael Klein, Philly.com
Midtown Village's Fall Festival (noon to 8 p.m., Saturday, Oct. 1), whose epicenter is 13th and Walnut Streets, will have a strong food component.
Among the goods on sale will be El Vez's grilled corn on the cob; Fergie's fried pickles, Scotch eggs and potato pancakes; fried shrimp tacos with tomatillo sauce from 13 at the Marriott; the Loews' spicy crab chowder; Opa's chicken gyros; Barbuzzo's pickled onions, veggie slaw and BBQ; Raw's autumn sushi rolls; Hard Rock Cafe's mini pulled BBQ pork and chicken sandwiches; and Philly Cupcake truck.
Save room for the "I Love Philadelphia" cookie-eating contest, scheduled from 3:45 and 4 p.m. at 13th and Locust Streets. It's an oversize shortbread cookie, baked by Philadelphia Chocolate, bearing an image of the skyline of Philly including Macy's, the Art Museum, Reading Terminal clock, the LOVE statue and the Phillies P. Contestants can eat as many as they can stomach to the theme song from Rocky.
Michael Klein, Philly.com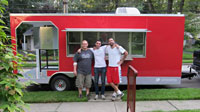 Jonah Fliegelman, a tennis pro at Arthur Ashe Youth Tennis and Education, has set up a delicious lineup of food trucks and other mobile operators for the AAYTE's "Taste of Tennis" event Sunday, Oct. 2 at the facility, at 4842 Ridge Ave. in East Falls.
Fliegelman himself is about to hit the road with Pitruco, a wood-fired pizza truck that he's working on with Nathan Winkler-Rhoades, who just finished defending his Ph.D dissertation in developmental psychology at Harvard, and Food Trust alumnus Eric Hilkowitz.
There also will be appearances by:
Michael Klein, Philly.com
Wednesday, Sept. 28 marks the debut of Interstate Draft House, a "beer pub" (16 on tap) replacing Moe's at 1235 E. Palmer St. in the heart of Fishtown.
Owners Bob and Brandon Bitros, who previously ran Azure in Northern Liberties, have brought back their last chef, Julio Rivera.
Here's the menu (.DOC), which includes the signature beef tips and seitan tips, plus New York-style Sabrett hot dogs.
Michael Klein, Philly.com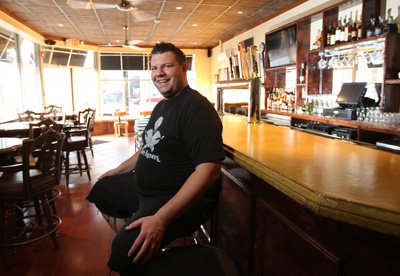 Mike Stollenwerk, who's gone from one little seafood-oriented BYOB to three restaurants seemingly overnight (OK, four years), is paring down his empire.
Stollenwerk has a buyer for Bella Vista BYOB Little Fish (to his chef Chadd Jenkins) and has offers on the table for his new Fishtown bar Fathom Seafood House, his rep confirmed. The timeline for the changeover is not set, but appears to be happening soon.
The rep says Stollenwerk wants to concentrate on Fish's forthcoming move to 1234 Locust St., a much larger space smack in the middle of the hot 13th Street corridor.
Michael Klein, Philly.com
Drew Lazor at Meal Ticket offers a photo tour of Crisp, the New York-rooted falafelry opening at 32 S. 18th St. on Sept. 27. Previous coverage. (Via Meal Ticket)
There's a new chef and menu at Wash West's Zinc. (Via Meal Ticket)
Trey Popp of Philly Mag reviews Cuba Libre on its 10th anniversary. (Via Foobooz)
Michael Klein, Philly.com
Wednesday, Sept. 28 is opening day of Paramour, a dramatic renovation of the restaurant space at the Wayne Hotel in Wayne. Developer S.W. Bajus Ltd. expanded the operation's footprint beyond that of the previous occupant, Restaurant Taquet.
The ornate, early-20th-century lobby lounge has been punched up with early-21st-century furnishings. The bistro has plush semicircle banquettes and floor-to-ceiling windows, and the main dining room — now allowing for plenty of natural light — has an open kitchen, marble floors and an enormous glass-walled wine display. An eight-seat black granite chef's bar accented with small tiles will showcase raw bar and crudo offerings.
The American-plus-steak-house main menu's dinner entrees start at $24 for chestnut ravioli, ahead into the $30s for steaks, and top at $45 for rack of lamb. It's open for weekday lunch and daily dinner; a bar menu is served from lunchtime through late night daily.
Michael Klein, Philly.com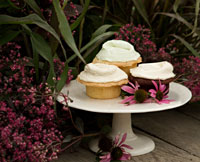 Brown Betty Dessert Boutique will set up Saturday (10/1) a one-day pop-up at the home-and-garden store and café Terrain at Styer's, 914 Baltimore Pike, Glen Mills. Hours: 10 a.m. to 4 p.m.
That day, Brown Betty will offer an exclusive line of tea-flavored cupcakes, including green tea, chai and earl grey tea, buttercream-frosted cupcakes, plus signature items such as Jean's Road Trip (red velvet), Only For Eliza (sweet potato), and more.
Michael Klein, Philly.com
Here's a cautionary tale to any restaurateur who opens before he is truly ready:
The 401 Diner in Conshohocken, which opened earlier this week, has closed temporarily so owners can address numerous issues.
In a statement, Tom Richter, Peter Richter, and chef Michael Cappon, the crew at Conshohocken's Isabella, wrote: "The kitchen was not able to produce the food at the high level of quality that the owners demand. They are restaffing, retraining and will reopen with a product that will meet the standards their customers expect."