Archive: September, 2010
Michael Klein, Philly.com
Philly has the best rock station in America, according to the National Association of Broadcasters.
WMMR (93.3) won the Marconi Award at Thursday's banquet surrounding the NAB's Radio Show in Washington, D.C. WMMR previously won it in 2007.
Program director Bill Weston and midday DJ Pierre Robert were there to accept. Robert had been nominated for major-market personality. Also in the nominee pool was WOGL (98.1) for oldies station.
Michael Klein, Philly.com
Opa, the modern Greek restaurant-bar coming to 1311 Sansom St., will be part of Saturday's Midtown Village Festival. Siblings George and Vasiliki Tsiouris are targeting November for the opening, and they'll have a tent to show off renderings and hand out genuine Greek evil-eye bracelets. They also will raffle off gift cards.

The all-vegan Blackbird Pizza is soft-opening at 507 S. Sixth St., just off South Street, where Gianna's Grille and Levis hot dogs were. Owners-buddies Mark Mebus and Ryan Moylan are sticking to pizzas, sandwiches, and a few salads, building the menu as they go. Hours are 3-ish through 10-ish daily except for Mondays. Best bet: Call 215-625-6660 to verify that it's open before you come out. Mebus cooked at the nearby all-vegan destination Horizons, as well as at Candle 79 and Blossom in New York City. Mebus says he's happy with his "pedestrian-friendly" fare. "Though fancier fare is far more exciting, I like the physical interaction with the customers," he told me. He uses Daiya vegan cheese, which every vegan chef knows is superior; it's not a soy-based product and melts properly. His sandwiches include a cheesesteak made of seitan and Daiya; a roasted vegetable grinder topped with Daiya and baked in the oven; a barbecue portabella mushroom sandwich for which he breads the mushroom, Southern-fries it, and slathers it in sauce, coleslaw, and peppers; and a variation of a chicken or tuna salad grinder that has chickpea filling. (Click on third image to see a slice of a white pizza.)
Michael Klein, Philly.com
Garces Trading Company, which enjoys special status because of the State Store on its premises (1111 Locust St.), has obtained a liquor license, effective dinnertime, Friday, Oct. 1.
What this means is that patrons can still buy a bottle of wine from the State Store and enjoy it at their table with no upcharge, and they now can order wine and beer by the glass, which is upcharged. There are pitcher options, too.
Michael Klein, Philly.com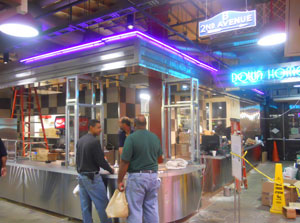 Saturday (10/2) is the final night in the kitchen at Distrito for chef Tim Spinner, who is leaving the Jose Garces orbit after seven years for his own Mexican restaurant, Cantina Feliz, with Distrito F&B director Brian Sirhal. The lads, making the move into the Fort Washington space that previously housed Alison two, hope to open in December. New chef at Distrito will be Maria Schmidt, who was on the opening Distrito kitchen team and has been a sous chef for the last couple of years. Schmidt is the third female exec chef in Garces' company, after exec pastry chef Jessica Mogardo and Chifa chef Natalie Maronski. (Post corrected.)

Friday (10/1) will mark the relaunch of Down Home Diner, Jack McDavid's joint in Reading Terminal Market. The place has been gutted, front and back. Besides the new kitchen equipment, re-visitors will notice that the smaller seating area on the kitchen side is gone -- replaced by a takeout counter featuring a grab-and-go case with $5 sandwiches, including cheesesteaks.The main seating area has been spruced up, as has been the eatin' counter. McDavid plans to start with the previous menu and ramp up the fare starting next Wednesday (10/6), adding dinners. Chef is Val Sandoval, whose background includes Jack's Firehouse and Audrey Claire (and he's a cousin of El Rey chef Dionico Jimenez). Hours will be 7 a.m. to 10:30 p.m. Mondays through Saturdays; he'll open at 7 a.m. Sundays but has not figured on his closing time. At some point, he'll add a Sunday brunch buffet and a liquor license.

The choco-centric Max Brenner was a last-minute addition to last night's Rittenhouse Row Fall Gathering, and barkeep James Cleland whipped up his "Drunken Punken Nog" in minutes. It was good enough to win first place. The drink includes Cruzan 9 spiced rum, house-made organic pumpkin syrup with cinnamon, star anise, nutmeg, and white chocolate ganache. Second place went to Liberte, coming soon to the Sofitel, for "A Ruby in the Fall (Cruzan 9, ruby port, aperol, pear nectar, lemon luice, light agave nectar, ground cinnamon) and the Ranstead Room placed with an "Orange Petal" (Cruzan 9, orange juice, Liquor 43, Agnostura bitters, orange blossom water, egg white). Max Brenner will have its winning drink on the menu from Oct. 15-Nov. 1 for $10.


Old will meet new: One of Philly's neatest businesses-you've-never-heard-of is Provenance Architecturals. These guys buy architectural salvage, clean it up, and install it in "new" projects. If you've been to the Oyster House (formerly Sansom Street Oyster House), Barbuzzo, Belgian Cafe, Mugshots, South Philly Tap Room, and Percy Street, you've seen Provenance's work. If you're curious about restaurant design, note that Provenance is opening its new showroom on Friday, Oct. 1 at 912 Canal St. in Northern Liberties from 4 to 9 p.m.
Michael Klein, Philly.com

CBS3/CW Philly traffic reporter Bob Kelly will get more exposure, starting next week. It's all thanks to attempts at synergy between CBS's TV and radio sides.
He'll be doing the traffic and transit on the 2's from 4 to 6 p.m. weekdays on KYW (1060) as regular provider Metro Traffic will take a two-hour breather.
Kelly, meanwhile, has not been heard on the Ross Brittain Breakfast Club show on WOGL (98.1) this week. Station manager Jim Loftus says listener surveys show that people turn to WOGL for entertainment. Kelly is expected to return to WOGL, but as a "personality" rather than a "reporter."
Michael Klein, Philly.com
Gladwyne's Todd Carmichael, who set out early last week on a quest to traverse Death Valley -- alone, on foot, and with no aid -- has ended his expedition after 10 days in 110-degree-plus heat.
He called for a pick-up, and last night was reported safe and sound in Las Vegas.
Caermichael may have been tired after walking 80 out of the 170 miles, but it was the tires on his equipment wagon that gave out.
Michael Klein, Philly.com
Tell it to the rain: Jerry Blavat will just have to cool his jets for a few more days.
Thursday's block party to welcome the touring production of the musical Jersey Boys to Philly has been postponed to Tuesday, Oct. 5, from 4 to 7 p.m. It's supposed to rain buckets on Thursday.
The party will take over the 1200 block of Walnut Street, a block west of the Forrest Theater. Traffic will be detoured.
Michael Klein, Philly.com
Wednesday, Sept. 29 is the first anniversary of Pizzeria Stella at Second and Lombard Streets across from Head House Square. To mark the occasion, servers will hand out free gelato (candle included) at the end of the meal.
Mas Mexicali Cantina in West Chester is getting into the gluttony business, offering a 5-pound burrito. If you can eat it in 30 minutes, it is free. If not, it is $21.99. There will be a wall of shame for people who can't finish it and a wall of fame for everyone who finishes it.