Archive: September, 2009
Michael Klein, Philly.com
Marcie Turney and Valerie Safran, who run four storefronts on 13th Street, have settled on Barbuzzo as the name for the Mediterranean eatery with bar that they're building at 110 S. 13th St., one store off the corner of 13th and Sansom.
The area around 13th and Sansom is hopping. Opening in less than a month will be Zavino, a pizza-wine bar at the northwest corner of 13th and Sansom, next door to Barbuzzo.
Barbuzzo's chef will be George Sabatino, who works at the couple's Bindi across the street.
Michael Klein, Philly.com
Director F. Gary Gray is a "go" for the 18½ Philadelphia Film Festival, as he'll introduce his shot-in-Philly thriller Law Abiding Citizen, starring Jamie Foxx and Gerard Butler.
LAC will get two screenings, at 6 and 8:30 p.m., on Oct. 15, the day before the movie's national release.
Gray will introduce only the 6 p.m. screening, at the Prince Music Theatre (1412 Chestnut St.).
Michael Klein, Philly.com
MidAtlantic -- the locally focused taproom from chef Daniel Stern in the Science Center at 3711 Market St. -- is in its training phase. Opening date will be Tuesday, Oct. 6.
The press notes say: "MidAtlantic will celebrate the intersection of the region's Pennsylvania Dutch cooking and the produce market stalls that ran from the top of Market Street to the banks of the Delaware River in the 1700s."
Here's the menu and drink list. Some ye olde names, such as Schuylkill fish house punch, the standpipe and shrub.
Michael Klein, Philly.com
James L. Brooks and his untitled comedy were out on the Parkway in front of TGI Friday's on Tuesday night, and the scene had star Reese Witherspoon shivering.
Though the overnight temperature had dipped into the 50s, she had to wear a short black dress.
Paul Rudd was also in the scene.
Michael Klein, Philly.com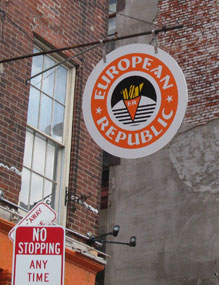 Old City is in line to get a Euro-style wrap-and-fry shop.
It's called European Republic, and it's an offshoot of a New York Times-praised frite shop in Huntington, Long Island.
A European Republic sign recently went up outside the papered-over corner storefront at Chestnut and Strawberry Streets (next to Amada) that over the years has housed Meju, Mandoline, Dardanelles, Sabooor! and Tropico.
Michael Klein, Philly.com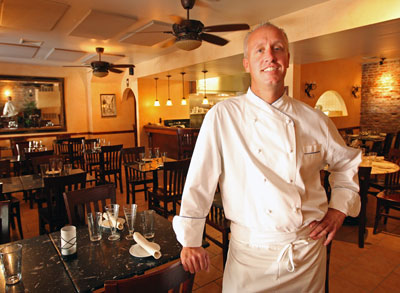 A health inspection is expected shortly for Koo Zee Doo, the Portuguese BYOB planned for the former Copper Bistro space at 614 N. Second St. in Northern Liberties. (You read about it first here on Aug. 12.) Husband-and-wife owners David Gilberg and Carla Goncalves suggest peeping a draft of the menu here. Update: Goncalves advises that her signature biscuits -- which lured patrons to her previous stops at Ugly American, Coquette, Matyson, and Loie -- will be offered at lunch (which is planned to start in November on Fridays, Saturdays and Sundays). For dinner, she'll bake traditional breads, such as broa (a crusty corn bread). Opening is targeted for Thursday (10/8).
Up the block, at the southwest corner of Second Street and Fairmount Avenue, will be an Italian BYOB tentatively called La Fuente. It's awaiting zoning approval. In a case of coming full circle, the spot used to be an Italian eatery called Chiamicello's before CREI real estate occupied it.
Gemelli, chef Clark Gilbert's first solo act, opened Tuesday (9/29) in Narberth.
Michael Klein, Philly.com
With the Phillies most likely headed to the playoffs, Fox29 has retained the freelance services of Steve Bucci.
Bucci, who was downsized by CBS3 in 2007 after 10 years, has a new book, Steve Bucci's Total Phillies Trivia.
Since his stint at CBS3, Bucci has done shifts for Comcast SportsNet.
Michael Klein, Philly.com
Sportscaster James Brown will talk about his faith-based book, Role of a Lifetime, at Mount Airy's Enon Tabernacle Baptist Church (2800 Cheltenham Ave.) in a free program from 6:30 to 8:30 p.m. Thursday (10/1).
Brown, a host of CBS Sports' The NFL Today and Showtime's Inside the NFL, will be introduced by the Rev. Alyn E. Waller, Enon's senior pastor.
Michael Klein, Philly.com
Central Bucks East grad Justin Guarini, who jumped into the national consciousness seven years ago on the first season of American Idol, is now a husband and daddy.
Details are scarce, as Guarini cut a deals People for exclusivity.
He and Reina Capodici, the daughter of his Lenape Middle School English teacher Karen Capodici, were married Saturday in a small ceremony in the garden of a private estate off of River Road overlooking the Delaware in Bucks County.
Michael Klein, Philly.com
Saturday night was the Mid-Atlantic Emmy Awards at the Loews Hotel, which covered a year's worth of TV work from Pittsburgh to Philly (and South Jersey and Delaware).
Awards in 70 categories were doled out over a not-so-brisk 3½ hours.
Though CBS3 won the most by a station (15), Fox29 won the glamour prizes: The station-excellence award, morning show and top anchor (Kerri-Lee Halkett).
Fox29's Bill Vargus won for sports anchor, sharing the award with Jason Bristol of Harrisburg's WHP. Vargus, laid off earlier this year, won last year. He dedicated the award to his wife, Sue Serio, and to "people everywhere who are unemployed."
NBC10's Lori Wilson, noting that she was presenting the evening's first award and that is also her first Emmy show, drew titters by saying: "I'm a virgin."
Top weather anchor was CBS3's Kathy Orr, who was a no-show.