Archive: August, 2011
Michael Klein, Philly.com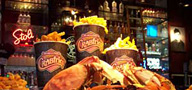 If Pete Ciarrocchi is strutting a little bit more, that's because Chickie's & Pete's, his crab house-slash-sports-bar chain, was named the best sports bar in North America in an ESPN Mobile poll.
So proud, he issued a press release: "To see the top name in sports, ESPN, and their viewers agree, is humbling. And I'm a tough guy to humble!"
Three more locations are on tap for the fourth quarter of 2011: Audubon, Montgomery County; Warrington, Bucks County; and Terminal D in the Philadelphia International Airport.
Michael Klein, Philly.com
You've seen restaurant dining rooms by the score. But could you ID their kitchens?
With Center City District Restaurant Week on the way -- actually weeks, Sept. 12-16 and Sept. 18-23 -- here's a quiz from us at philly.com/Food.
We're going into the back of the house for this one. Review all eight photos of restaurant kitchens in the slideshow above.
Michael Klein, Philly.com
If all goes to plan, the first big restaurant opening of the season will be Tashan, the spiffy modern Indian small-plater from Tiffin's Munish Narula, at 777 S. Broad St.
The paper came off the windows at Broad and Catharine Streets last week, and architect/designer Winka Dubbeldam's posh stylings are coming together.
Staff is being trained.
Michael Klein, Philly.com
Not even waiting till Labor Day, the Wildwoods are hosting a restaurant week from Sunday, Aug. 28 through Sept. 2.
Twenty-plus restaurants are participating with four-course, $30 dinners.
Michael Klein, Philly.com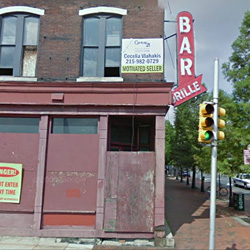 Busy corners do wonders for a neighborhood, and a dark corner at Front and Market Streets in Old City this fall will have a restaurant.
Partner Aaron Kavulich, a Scranton native who lived in Pittsburgh and operated restaurants there, won the backing of the Old City Civic Association, which right now is frowning on several projects, including those at 312 Market St. (the former Patou, whose applicant owns bars in West Philly) and 123 Chestnut St. (the former Rococo and World Fusion, whose applicant wants to install a New Orleans-themer). There's an Indian restaurant in early stages of development at 246 Market St., formerly Bluezette and Prive. But I digress.
On Wednesday (Aug. 24), Kavulich got approval from the city Zoning Board to move forward with his planned restaurant at 100 Market St., a former barroom that has been unoccupied for at least 20 years. (For years, the piece was in the real estate portfolio of Paul Rimmeir, who owned a number of decaying parcels in that part of town before his death in 1998.)
Michael Klein, Philly.com
What do you get when you mix 34 arcade games and 25 beers on draft?
It's Barcade, a lively bar coming to a former electrical-supply warehouse on Frankford Avenue in Fishtown in mid-September.
Partners Paul Kermizian and Pete Langway, who have Barcades in Brooklyn and Jersey City, say they'd been scouting Philly for several years.
Michael Klein, Philly.com
Chef Gregory Vernick traveled the world for former boss Jean-Georges Vongerichten, and now the Cherry Hill native is coming home to open his own restaurant.
The project, in a brownstone that he and his wife, Julie, bought at 2031 Walnut St., came up Tuesday night before the Center City Residents' Association.
Vernick, 30, told the neighbors that the unnamed restaurant would be a good fit for the area: upscale and energetic, serving small plates designed for sharing.
Michael Klein, Philly.com
Main Street Market in Manayunk plans to set up an 18-flavor stand serving Capogiro gelato as part of a planned expansion.
The expansion's timing will be affected by an Aug. 30 court hearing, says market co-owner Richard Rivera. The building owner is trying to evict Saxbys Coffee from the corner of the property.
(hat tip to @MarisaMagnatta)