Archive: August, 2009
Michael Klein, Philly.com
It was big, big new$ the other day when M. Night Shyamalan decided to move his next movie to Canada because of the Pennsylvania budget impasse.
Now, producers of a smaller movie, a drama called Destination Home, have decided to take their show to Georgia. It was supposed to have started shooting soon.
Producers had more worries than the state budget. (The amount of film tax incentives are uncertain.)
Michael Klein, Philly.com
Jake Segal, 11, of Lafayette Hill, has an uncanny knack for meeting Bruce Springsteen.
Last year in Hershey, Springsteen reached out into the crowd and held Jake's hand while singing "Spirit in the Night," and at one of the Spectrum shows, Springsteen jumped in the crowd, handed Jake the microphone, and let him sing the chorus of "Waiting on a Sunny Day," as Bruce often does with young fans.
Jake reprised the "Waiting" act Tuesday 8/25 in Saratoga Springs, N.Y.
Michael Klein, Philly.com
The pizzas should be coming out of the oven this weekend (as in Saturday 8/29) at the new SliCE at 1740 Sansom St. Weekend hours are 11 a.m. to 10 p.m. Official opening will be Monday 8/31. Here's more info.

Fond, the BYOB from Le Bec-Fin/Rittenhouse Hotel vets on East Passyunk, is opening Monday night 8/31. Info here and here
.
Famous 4th Street Deli's new spot at 38 S. 19th St. is now looking to open midweek (9/1 or 9/2).

MaGerks, a sports bar replacing the Bent Elbo in Fort Washington, is aiming at the latter half of September.

Zama, the Japanese spot under construction at the former Loie (128 S. 19th St.), has been cleared for its liquor license. It's up for a fall opening.

Jolly's Rockin' Piano Bar, coming to 2006 Chestnut St. in late September/early October, will use the kitchen services of Brendan Smith of the nearby Smiths.

Drama on Thursday night at Bibou, the very fine French BYO in South Philly: A blackout. Neighbors provided candles so chef Pierre Calmels could finish feeding his full house. Other patrons were sent to the nearby James, which classily allowed Bibou patrons to BYO. Check out Sunday's Inquirer for Craig LaBan's review.

Also in Sunday's Inquirer, I explain the rash of openings and closings. And food nerds will want to scope out a couple notes of interest: The name of Jose Garces' new place (the BYO cafe at 1111 Locust that will be shared with the LCB) and an idea that's been rolling through Stephen Starr's mind.
On a side note, postings here will be fewer and farther between for a while. I'm getting married this weekend.

Michael Klein, Philly.com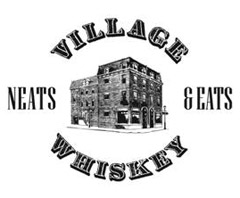 Deviled eggs.
Cheese puffs.

Burgers.

A lobster roll.

Homemade pickles.

Duck-fat fries.

From Jose Garces, the Latin chef? (Ok. There's a smoked hot link. Dude did grow up in Chicago.)

Here's the full menu
for Garces' latest, Village Whiskey. It opens at 11:30 a.m. next Thursday (9/3) next to Tinto at 20th and Sansom Streets.
At only 30 seats, VW will be jamming for some time, though hours will be long: 11:30 a.m. to 11 p.m. Mondays through Thursdays, till midnight Fridays and Saturdays, and 4 to 11 p.m. Sundays.
Michael Klein, Philly.com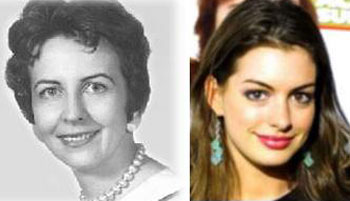 Actress Anne Hathaway gave a stirring tribute to her family Wednesday morning (8/26) as she sang "Ave Maria" at the funeral Mass of her paternal grandmother, Jacqueline Ann Gouin, at Immaculate Heart of Mary Church in the city's Andorra section.
She was accompanied by a harpist.
Mrs. Gouin, who passed last Friday at age 86, lived at Cathedral Village. She previously lived in Lafayette Hill, Olney and Fismes, France.
Michael Klein, Philly.com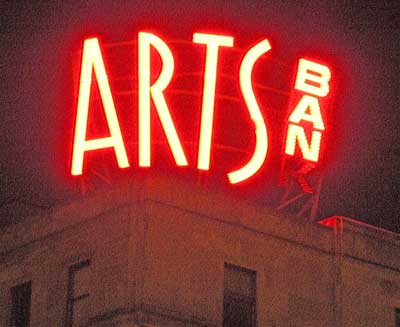 It's only a glitch with the Arts Bank's neon sign at Broad and South Streets, as I spotted Wednesday night.
Phillip Van Cleave, the University of the Arts' vice president for facilities management and operations, said the school had planned to relamp the sign, but just didn't get it before the "k" burned out.
The sign will be shut off until the relamping is done, tentatively in the next two weeks, he said today.

Michael Klein, Philly.com
The Federal Communications Commission has again rejected WIP's appeal of a $4,000 fine over the 2005 Wing Bowl.
Arnie Chapman of Long Island, N.Y., had qualified for the annual spectacle by eating 28 clementines but was later disqualified because he runs the Association of Independent Competitive Eaters, a smaller rival of the International Federation of Competitive Eating, which sanctioned Wing Bowl XIII.
The case has been before the FCC since early 2005, when Chapman filed a complaint against WIP owner CBS Radio. The FCC determined that WIP didn't announce contest terms, which were rewritten to exclude AICE eaters, and fined CBS $4,000 last year.
Michael Klein, Philly.com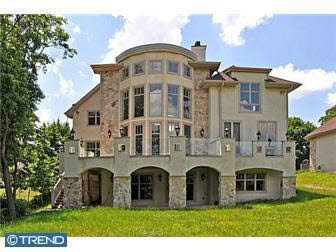 Michael Vick's new waterfront pad seems to be only a steppingstone to a new 7-bedroom house on a ritzy new street in the city's Northwest.
The Andorra/Roxborough crowd insists that he's bought or is renting a $1.3 million house in Andorra.
The house's price squares with a real estate listing, but it raises this question: Why would anyone with a one-year, $1.6 million contract buy property in a new city? And might his bankruptcy filing affect his ability to buy?