Archive: July, 2011
Michael Klein, Philly.com
The development at Willow Grove Park mall -- on the third level where Strawbridge's was -- will include Bravo Cucina Italiana, a white-tablecloth restaurant with an open kitchen and a decor designed to evoke Roman ruins. There's one open now in Lehigh Valley Mall. The Ohio-based chain also owns Brio, a Tuscan grill with locations in Cherry Hill, Marlton, and Newark, Del.
Joe's Crab Shack, a seafooder out of Houston (with locations in Lawrenceville and Wilmington), will take the burned-out Houlihan's space in the 555 building on City Avenue in Bala Cynwyd.
This one's not quite signed, but I hear that Chicago-based group Restaurants-America intends to take over the shuttered Roy's at 15th and Sansom Streets with one of its concepts, probably its businesspersons-friendly American wine bar Townhouse. Developers-brothers Joe and David Grasso had been planning a bar-restaurant called American Oak on that spot, but that plan has been scuttled.
Michael Klein, Philly.com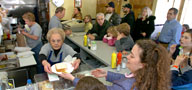 Widely regarded as the Cheers of the Main Line, the Gladwyne Village Lunch closed Friday, July 29.
Owners Bill and Laura Faust are selling the luncheonette, which they've run for 18 years -- five-plus years in their current location at 951 Youngsford Rd. They plan to retire.

The new owner, whom Bill Faust declined to identify, is expected to reopen in several weeks as the Gladwyne Lunch Box.
Michael Klein, Philly.com

Erstwhile Parc bartender George Reilly had been promising a July opening for his South Street-area, Southern-style blues and juke joint, The Twisted Tail, and by gum, he's doing it.
Friday, July 29 at 4 p.m., he'll open the doors at 509 S. Second St. and you'll see how he's gutted the former Kildare's on Headhouse Square and transformed it.
Michael Klein, Philly.com
That Philly Shake Shack project that I told you about last month, aimed for the corner of 20th and Sansom Streets, is very real -- and still very far away (second half of 2012).
It's moving forward.
Danny Meyer and crew are headed to the city's Zoning Hearing Board on Wednesday, Aug. 3 as they seek a certificate to allow the serving of hot and cold food -- the first of many permits and licenses it will need.
Michael Klein, Philly.com
Restaurant Associates, opening a new dining concept at the Art Alliance at 18th and Rittenhouse, is now hunting for a chef to run the joint.
Executive chef Ed Brown, who oversees RA's culinary programming, tells me that he's taking resumes and that he wants to hire someone working locally.
"It's going to be a great restaurant," says Brown, based in New York for the catering giant. "Not fancy, not formal. Accessible."
Michael Klein, Philly.com
It took a full week, but the winners of the third annual Pizza Olympics have been announced.
Overall favorite, Nomad, will be opening a shop this fall at 611 S. Seventh St., the spot vacated recently by Horizons. For now, you have to travel to Hopewell, N.J.
Michael Klein, Philly.com
The owners of Catelli, which closed over the weekend in Voorhees' Main Street complex, are planning to resurface four miles away this fall with a less fancy restaurant in the Voorhees Town Center (the former Echelon Mall).
It will be called Osteria Duo, also under Catelli chef Lou Imbesi.
Principal partners Linda Rosanio and Jan Talamo, who also own the marketing company the Star Group, say that the concept is "right for the times" and describe it as "rustic, romantic, and Italian... fun, bustling, convivial, and more approachable, with greater emphasis on the bar side of our business and wine as the main attraction."
Michael Klein, Philly.com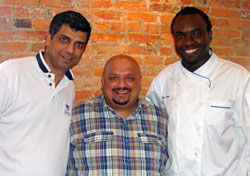 Just about every day, Munish Narula stops into his flagship Girard Avenue location of Tiffin, his Indian empire, to see what his two chefs are up to.
Sylva Senat and Sanjay Shende are going back and forth at Tiffin's stove, engaged in a collegial give and take, refining the menu for Tashan, the upscale restaurant that Narula plans to open next month at 777 S. Broad St.
The affable, cheery Shende is an Indian master chef who has worked all over India and the U.K.