Archive: July, 2010
Michael Klein, Philly.com
The big renovation of Down Home Diner in Reading Terminal Market will start Sunday night (8/1) -- just some basic work on the dining room. There will be seating outside on Filbert Street.
Diners won't feel the impact until Aug. 15, when owner Jack McDavid plans to shut down for a month.
McDavid is gutting his kitchen, adding dedicated restrooms, and sprucing up the dining room, which will serve full-fledged dinners.
Michael Klein, Philly.com
The Voorhees Town Center, at Somerdale and Burnt Mill Roads (formerly Echelon Mall) has announced three new tenants: second locations for Firecreek and its offshoot Doghouse Gourmet Burgers (now in Downingtown) and Coffee Works Cafe (now in the Ritz Center). Coffee Works is looking at "fall," while Firecreek/Doghouse is projected for April.
Chef Ross Essner, who had a stake at Rx and Django and did time at Tap Room on 19th, is working with restaurateur Willy Bouikidis on 1518 Bar & Grill, a project at 1518 Sansom St. that I told you about way back on Jan. 5. "Not too fancy" is Bouikidis' take on the menu, which will mix American and Italian specialties. There will be a bar and open front windows, similar to Ladder 15 down the street. He's hoping to open in four to six weeks.
Michael Klein, Philly.com
Some Flyers bonded over rapper Nas' show Thursday at the House of Blues at the Showboat in Atlantic City.
Afterwards, (from left) Dan Carcillo, Ville Leino, Jeff Carter visited the House of Blues Foundation Room.
Michael Klein, Philly.com
This weekend's best bet at the Jersey Shore is the Atlantic City Food & Wine Festival, an assemblage of celeb chefs doing tastings, demos, and the like at assorted casino properties.
The weekend is a sort of coming-out party for the Food Network's offshoot Cooking Channel, and Roger Mooking, host of Everyday Exotic, Darryl Robinson, aka Dr. Mixologist who mixes it up on Drink Up, and Ching He-Huang who shows how to make Chinese food at home on her show Chinese Food Made Easy, will be there.
Michael Klein, Philly.com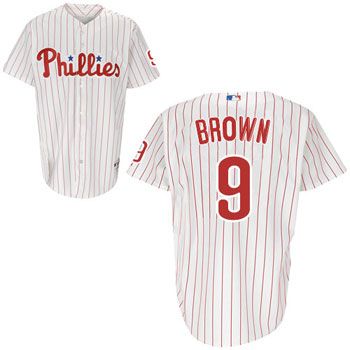 Life is great for the newest Phillie, Domonic Brown:
In AAA on Tuesday, at Citizens Bank Park on Wednesday.
And tonight, now that the contract between Major League Baseball and the Player's Association has been signed, Brown's #9 jerseys will be in stores, including the Majestic shop at the ballpark.
Michael Klein, Philly.com
The South Philly Vikings, the 2010 champion Mummers fancy brigade, did its sequined thing on Tuesday's edition of the NBC show America's Got Talent (9 p.m., NBC10).
Howie Mandel described them as an "arts-and-crafts project on steroids."
Alas, they were sent home on Wednessay's "results" show. "We're a little disappointed, but it's all good," organizer Vince Buono texted afterward. "America knows the South Philly Vikings."
Michael Klein, Philly.com
Eagles wideout Hank Baskett and his reality-show wife, Kendra Wilkinson, are bunking at Two Liberty Place, the high-rise on 16th Street near Chestnut.
That will mean camera crews this fall as she shoots her reality series.
HughE Dillon scooped the news this morning on Phillymag.com, and management just sent this e-mail to its residents:
Michael Klein, Philly.com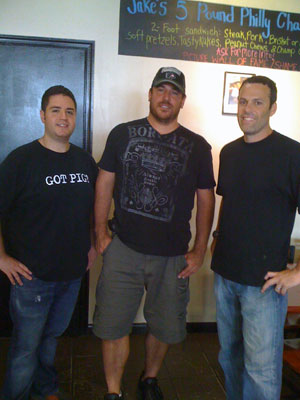 Jake's Sandwich Board, at 12th and Sansom Streets, laid down an offer nearly two weeks ago:
Anyone who eats the entire "Jake's 5-Pound Philly Challenge" -- a two-foot sandwich (steak, pork, brisket, or all three), four soft pretzels, a box of Tastykakes (Krimpets or Kandy Kakes), 24 Peanut Chews, and a Champ Cherry soda -- gets it for free and gets his or her photo on the wall.
Jake's reports its first winner: David Goldstein, who needed 34 minutes and 48 seconds.