Archive: June, 2011
Michael Klein, Philly.com
Just when we endured a rash of "Farmer"-named restaurants, here
comes "Twisted."
In the next several weeks, George Reilly's The Twisted Tail -- a
serious "bourbon house and Southern charcoal bistro" where the
Kildare's on Second Street near South was -- should be cranking out the blues.
View Larger Map
Michael Klein, Philly.com
Can't stop the music.
Avram Hornik and Mark Fichera are behind a plan to revive Ortlieb's Jazzhaus in Northern Liberties, which closed last year.
Hornik told me that he plans to open as soon as the liquor license is transferred from founder Pete Souders.
Michael Klein, Philly.com
StoneRose, 822 Fayette St. in Conshohocken, is down after an early morning fire.
MoreThanTheCurve.com has photos of the aftermath. The restaurant's Twitter feed says: ""Thank you for all of your support! No one was hurt in the fire. We will keep you posted on our re-opening!"
More info as it comes in.
Michael Klein, Philly.com
When most restaurants choose to open before their liquor license is in hand, the proprietors hand out glasses of vin ordinaire.
Not David Fields, who is opening a.kitchen at 5 p.m. Tuesday, June 28 at the AKA Rittenhouse Square (135 S. 18th St., just north of Walnut Street).
He's offering a healthy selection of his list, as well as a bottled beer and three cocktails.
Michael Klein, Philly.com
Drexel students won't be Dragon too much in the morning this fall, as Sabrina's -- the popular bruncherie with locations in the Italian Market and Franklintown -- is taking over the first floor of Ross Commons, on the southeast corner of 34th Street and Powelton Avenue.
DeAbreu tells me that it will be the same format as the two other locations, and will be about the same size as the original on Christian Street.
Dov Benjamin Wisnia of Mallin Panchelli Nadel Realty, who did the deal, quipped that this location will take Dragon Dollars.
Michael Klein, Philly.com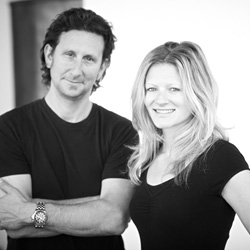 Having dropped the bombshell that they were closing their vegan destination Horizons after Saturday, July 2, Rich Landau and Kate Jacoby have told me their next step:
It will be a vegetarian restaurant called Vedge at 1221 Locust St., the former home of Deux Cheminees.
Landau and Jacoby say Vedge will place vegetables in the spotlight like never before, in a sexy setting they call Philly's answer to Animal in L.A. (Menu will be vegan.)
Michael Klein, Philly.com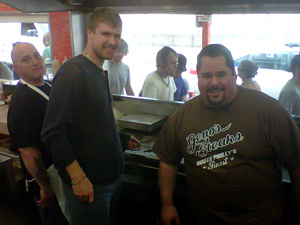 New Flyers goalie Ilya Bryzgalov celebrated a rite of passage: stopping at Ninth and Passyunk in South Philly for a cheesesteak.
He was steered into Geno's, where they let him get a taste of the grill work.
No doubt, he used English -- though he ordered a "Bryz (Whiz) without."
Michael Klein, Philly.com
Ambler, the Main Street USA town along the SEPTA Doylestown line, is gearing up for its first restaurant week, Sunday, July 10 through Friday, July 15.
Eleven restaurants are participating and will be offering dinner specials and prix fixes throughout the week. There will also be artists displaying their work, live music, retail specials and extended hours on select nights during restaurant week. The day after, Saturday, July 16, will see an art stroll from 11 a.m. to 5 p.m.
Bridget's: 3 courses for $32 ($5 will be donated to Ronald McDonald House)
Dettera: 3 courses for $30
Trax: 3 courses for $30
Massa: 3 courses for $30
Shanachie: 4 courses for $30
KC's Alley: 3 courses for $20 ($5 will be donated to Ronald McDonald House)
From the Boot: 3 courses $20
Saffron: 3 courses $20
Fireside: 1 half-priced appetizer