Archive: June, 2009
Michael Klein, Philly.com
Akoya, the pan-Asian restaurant that opened in January beneath Pearl nightclub (1904 Chestnut St.), is shut till Labor Day, says co-owner Scott Stein. He says they will entertain private parties.
He adds that Pearl is open Thursday, Friday and Saturday nights.
Michael Klein, Philly.com
The city today released a new list of businesses and their owners who face judgments over business taxes.
Among the 57 businesses and 37 associated officers are Walnut Street's Denim Lounge and founder Wayne Shulick. The city says the business owes $334,576.06 while Shulick himself owes $130,216.60.
Michael Klein, Philly.com
Nick Nolte was at Caesars in Atlantic City last week to film scenes for the Lionsgate drama Warrior.
Nolte's character is blue-collar former boxer Paddy Conlon, who, after years of estrangement from his family over his alcoholism, reunites with his youngest son Tom (played by Brit Tom Hardy) and trains him to fight in a mixed-martial arts tournament held in Atlantic City. And guess who Tom fights? Why, his older brother Brendan, played by Aussie Joel Edgerton.
(Guess the title "Raising Cain" was taken.)
Michael Klein, Philly.com
Radio icon Sid Mark relates a story about Irv Homer that says so much about the contrarian talk-show host, who died Wednesday at age 85:
After WWDB was sold to Beasley Broadcast Group in 1997, the talk station's employees were called into a meeting with new owners Bruce and Brian Beasley.
When asked if workers had any questions, it was Homer who was the only one to raise his hand.
Michael Klein, Philly.com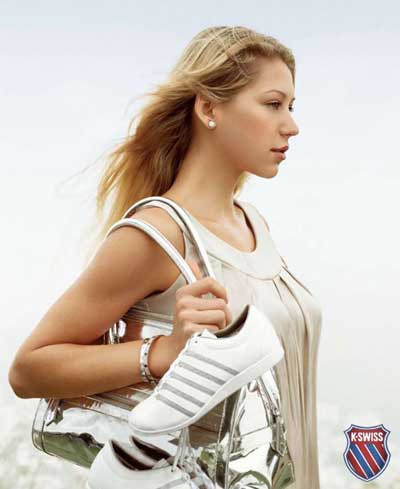 Morton's in King of Prussia will host what it's billing as "A Guy's Night Out with Anna Kournikova" from 5 to 7 p.m. July 6, before the camera-friendly tennis star's 7:30 p.m. World TeamTennis match outside the King of Prussia mall.
Tix ($70 to $100 a head and include a ticket to the match, a drink, appetizers, and a photo with Kournikova) are being sold at the Philadelphia Freedoms ticket window on the second level of The Court at King of Prussia or by calling 866-WTT-TIXS or 302-774-4238.
Michael Klein, Philly.com
Got you covered for lunch today:
From 11 a.m. to 3 p.m., Tony Luke III will serve samples of the family's Tony Luke's Pronto brand of cheesesteaks, chicken cheesesteaks and pork sandwiches outside of the Tony Luke's stand at 39 E. Oregon Ave. in South Philly. These are from the frozen-food line that Luke and his father are selling in ShopRite stores and on QVC. Right now, there's a lot of attention focused on the eatery, as WYSP has four contestants living in a Ford Mustang in a bid to win the car.
As for dessert, from 11 a.m. to 10 p.m., the new Sprinkles frozen yogurt shop in Garden State Park shopping center, Route 70 and Haddonfield Road (next to Douglas Steakhouse) in Cherry Hill will hand out free product on its opening day. Sprinkles adds active yogurt cultures, adding probiotics to supposedly help improve the body's immune system and calcium absorption. Flavors: Original Tart, Pure Vanilla, Classic Cappucino, Green Tea Tart, Irish Mist, Banana-rama, New York Cheesecake, Snickerdoodle Dandy, Berry-licious Sorbet, Krazy Kahlua, Peppermint Stick, Pistachio, and Rootbeer Float, plus eight "swirl" combinations. Future Sprinkles-es will follow later this year on the Penn campus, West Chester and Malvern.
Michael Klein, Philly.com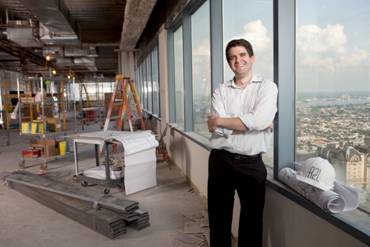 Daniel Stern and crew are now saying "November" for his new restaurant at the Residences at Two Liberty Place, the luxury condo within the city's third-tallest building, with an entrance on 16th Street between Market and Chestnut.
The Le Bec-Fin alum, who owns the bistro Gayle in Queen Village, closed his restaurant Rae in the Cira Centre around New Year's amid word that he was relocating it to 2LP.
There's been a name change: The Rae project now will be called R2L. (Look closely at the hardhat in the photo.)
Michael Klein, Philly.com
Talk-show host Irv Homer, who died last night during a speaking engagement, will be remembered in a service at 11 a.m. Sunday at Joseph Levine & Son Memorial Chapel, 4737 Street Rd., Trevose.
The family requests donations to the Sunshine Foundation, 1041 Mill Creek Drive, Feasterville, Pa. 19053.