Archive: May, 2011
Michael Klein, Philly.com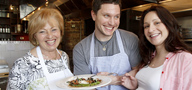 You don't hear too many mother-in-law jokes from Jeff Michaud.
The chef and co-owner at Osteria credits his Italian mother-in-law with inspiring his kitchen magic.
The Inquirer wrote about Giuseppina Carrara's visit from Bergamo, Italy, a few weeks ago, which coincided with the birth of a daughter (Gaia) to Jeff and Claudia Michaud.
Michael Klein, Philly.com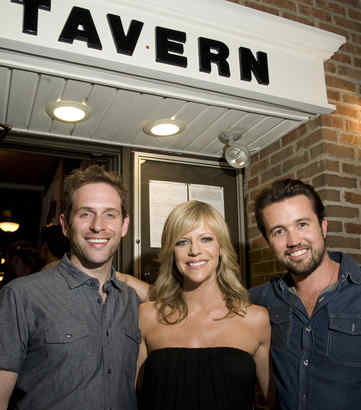 Restaurateurs/actors Rob McElhenney and Kaitlin Olson will be back in Philly to shoot exteriors for season seven of It's Always Sunny in Philadelphia. They're expected to look in on their investment: Mac's Tavern (226 Market St.), which they own with a bunch of McElhenney's buddies from St. Joseph's Prep. The Fx shooting, which will include series costars Danny DeVito, Glenn Howerton, and Charlie Day, will be done June 23, 24, 27, 28, so plan your visits accordingly. Meanwhile, Mac's has stepped up its menu, adding a half-pound, 12-inch chili cheese dog, "Sweet D's" roast beef and cheese on a Philly Pretzel Factory roll, shrimp gazpacho, and a B.L.A.T. sandwich (thick cut, pepper crusted, maple bacon, avocado and tomato).
---
The University City District will host "Sustainable Saturdays: The West Philadelphia Local Food Series" with tours, urban farming activities, and beer and food events. They'll run on the third Saturdays, June through September. Themes: June 18 (Grow It Yourself), July 16 (From Farm to Table), Aug. 20 (From Seed to Compost), Sept. 17 (Preserving the Harvest). Details here.
---
Center City Sips, the happy-hour promo, returns on Wednesdays from June 1 through Aug. 31. From 5 to 7 p.m., 85 bars offer $4 cocktails, $3 wines, $2 beers, and half-priced appetizers. Some will offer a 15 percent dinner discount after 7 p.m. Details here.
---
Michael Klein, Philly.com
Todd Dae Kulper came to Philly in early 2010 to open Ro-Zu, what turned out to be an amazingly short-lived sushi specialty shop at Seventh and Bainbridge Streets. (It's now Big Eyes Sushi, run by Morimoto alums Sam and Sugi Wijaya.)
Kulper then took up with the guys from the Khyber Pass/Royal Tavern/Cantina Los Caballitos/Cantina Dos Segundos universe, and plans unfolded for an izakaya, a Japanese bar operation.
In February, Kulper hosted a one-off izakaya night at the Khyber Pass.
Michael Klein, Philly.com
Bunch of things popping up on the radar:
Cantina Los Caballitos, the rockin' Mexican at 1651 E. Passyunk Ave., is going for outdoor seating in the lot next door.
---
The guys from Green Eggs Cafe (South Philly and Northern Liberties) are behind the liquor application posted at 1536 E. Passyunk Ave. They have not returned my calls over the last two weeks; I mentioned their search for an East Passyunk spot back in March. The lack of firm info has prompted some in the neighborhood (especially one restaurateur not eager to see more competition) to spin yarns that they're going for an after-hours club. That's hooey. The application calls for a bar on the first floor, not a club. I'm hearing Stateside as the name.
---
Michael Klein, Philly.com
Luis Marin, owner of the traditional El Sarape/Los Sarapes in Chalfont, Horsham, and Blue Bell, has gone for a modern experience at Xilantro, due to open for Sunday, May 29* for dinner at 103 N. Wayne Ave. in downtown Wayne (484-580-8415). It will then be closed Memorial Day and open for lunch and dinner on Tuesday, May 31. Sunday brunch is to start Sunday, June 5.
Marin is partnered with lawyer Joel Solomon, who is already considering other locations/cities.
They found chef Juan Pablo Quiroz in a most homespun way. His sister Veronica was dining at one of Marin's restaurants and was chatting him up about chiles rellenos. Marin mentioned that he was opening a new restaurant, and she replied that her brother trained at the Culinary Institute of America. He was working in Mexico when he got the call.
Michael Klein, Philly.com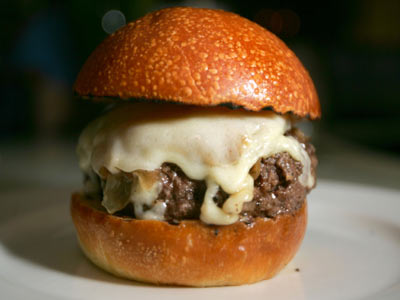 "Who serves the best burger?"
That's a question that you can help answer on June 4 at Burger Brawl, a burger-making contest designed as a fundraiser for Meredith Elementary School in Queen Village.
Rob and Maggie Wasserman, who own Rouge and 500 Degrees and whose son Jonah attends the school, wrangled 18 burger specialists to do the sizzling.
Michael Klein, Philly.com
The Marathon Grill and associated MarBar at 40th and Walnut Streets didn't make its seventh anniversary. The Daily Pennsylvanian reported that soft sales led owners to decline to renew their lease. There are five Marathons remaining. Penn is looking for a new tenant.
---
Dickinson Square Park in Pennsport will return its Art Market and Junque Sale on June 4. The next day, it will debut a farmers' market, in partnership with Farm to City. The Sunday farmers' market will be set up on the northwest corner of Moyamensing Avenue and Morris Streets and will continue every Sunday from June 5 through October from 10 a.m. to 2 p.m. Three farms -- Darmo Family Farms, Down Home Acres, and Two Gander Farm -- will bring organic, pesticide-free fruits and vegetables, as well as eggs, flowers, honey, and other products. There are plans to add a SNAP (Supplemental Nutrition Assistance) terminal to the market by midsummer, which will allow low-income households to use their food stamp benefits at the market.
---
Tiger Woods, here to visit Aronimink Golf Club, dined Monday at the Fleming's Prime steak house in Radnor. He was in a foursome, and was exceedingly lovely to fans. A bone-in ribeye? No. He opted for the peppercorn prime New York strip.
Michael Klein, Philly.com
University City Dining Days is coming back, from July 14 to 28.
With Wells Fargo on board for the first time as sponsor, it will feature 29 restaurants offering three courses for $15, $25, or $30.
Newcomers JG Domestic, Pattaya Grill, and New Delhi will join such old faves as Distrito, Pod, White Dog, and Penne.