Archive: March, 2011
Michael Klein, Philly.com
Chef Hiroyuki "Zama" Tanaka's celebrity roll campaign at his Zama restaurant on 19th Street was a hit, as it funneled $1,200 to Variety, the Children's Charity. Eagles player Winston Justice, sandwich czar/actor Tony Luke, Phillies pitcher Ryan Madson, and Flyers alum Bernie Parent lent their names to the creations. Next up: Tanaka is teaming with other chefs on rolls that will benefit the Vetri Foundation for Children, whose star-studded Great Chefs Event fundraiser will be reprised at the Navy Yard on June 14. Starting Friday, April 1, charity founder and chef Marc Vetri will have his own name on a roll. It will contain BBQ eel with crispy shallots, tempura flakes, scallion and shiso, wrapped with daikon, drizzled with truffle eel glaze, topped with cucumber salad tossed with a uni sauce, and plated with a bruleed uni sauce. All for $18. It'll be on Zama's menu through the summer.
---
Block the calendar for Sunday, April 17 when Mary Ann Esposito, the cookbook author and host of PBS's Ciao Italia, will demonstrate Family Circle recipes, talk about the importance of local produce, and offer tips on spicing up meals and simple entertaining, with Marc Silverstein of the Food Network and Discovery Channel from 2 to 4 p.m. at IKEA in Conshohocken.
---
Friends of former Philly restaurateur/boulvardier Michel Notredame (who chef-owned such spots as Bridgid's and Cuvee Notredame back in the day) will gather from 6 to 9 p.m. Monday, April 4 to remember him. He reportedly died recently in Belgium. RSVP here.
Michael Klein, Philly.com
Moon Krapugthong is closing Mango Moon, the Thai street-fooder that she opened in late 2008 at 4161 Main St. in Manayunk. Last day will be April 9. For its last few weeks, Mango Moon's hours will go to 5 to 10 p.m. Wednesdays through Saturdays.
This fall, Krapugthong plans to open Yanako, a Japanese-themed concept she's been developing since last fall, up the street at 4410 Main St., where Mainly Shoes was.
Yanako's food will be fresh and healthy with heavy (traditional) Japanese accents but served very simply/delicately, she says -- "like the Japanese version of Chabaa Thai," her other Thai restaurant in Manayunk. (Chabaa is undergoing an expansion, due to be finished by Mother's Day.) Yanako's menu will have sushi/sashimi/maki and noodle bowls (with broth) as well as bento boxes, etc.
Michael Klein, Philly.com
Di Bruno Bros. will open its five-stall stand at the Ardmore Farmers Market at Suburban Square on Tuesday, April 5. Mozz made on premises, chef's demos, daily tastings, the whole shebang. (Previous coverage.)
---
Talula's Garden -- the Aimee Olexy/Stephen Starr partnership at 210 W. Washington Square -- is looking at an April 10 or April 11 opening. Dinner only, seven days; Sunday brunch will begin on Easter Sunday. (Previous coverage here and here.)
---
And bam: Emeril Lagasse will open his third restaurant at the Sands Casino Resort in Bethlehem in May. Emeril's Italian Table will join Emeril's Chop House and Burgers And More.
Michael Klein, Philly.com
Spark Energy, a retail electric provider aiming to convert PECO customers, will offer gasoline for 10 cents a gallon to 100 drivers on Tuesday, March 29 at the Heilman Sunoco station at 710 Easton Road in Willow Grove.
Here's how the promo will work: First you figure out how much gas your vehicle will burn to get to and from Willow Grove. THEN you go to Spark's Facebook page at www.Facebook.com/SparkEnergyPA and click on "like." That will give you access to a coupon, which you will print out. Get in line, at the Ellis Road entrance, no earlier than 9:50 a.m. Tuesday. The cheap gas goes to the first 100 cars, and the promotion will shut off at noon.
The "10 cent" figure is supposedly a reminder that Spark's kilowatt-hour rate is 10 percent lower than PECO's.
Michael Klein, Philly.com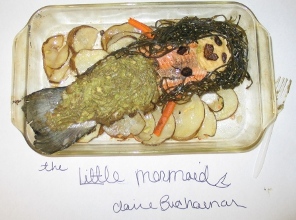 You can eat the artwork after a free public viewing Monday, March 28 at Moore College of Art and Design on Logan Square.
Students have been assigned to create edible artworks related to a book or book title.
Previous entries include A Clockwork Orange (an orange almond cake with a working clock in it), S'more and Peace (a giant s'more sandwich), Alice in Wonderbread (a Wonder Bread and jelly concoction), and Reading Rainbow (made of cheesecake clouds, a Styrofoam arch, and a rainbow of colored fruits on toothpicks).
Michael Klein, Philly.com
A notice appears at the end of my Sunday "INQlings" column in The Inquirer.
To summarize:
No more INQlings. Ten years. Enough. Thanks.
I'm headed to Philly.com for an exciting challenge.
I will continue writing for The Inquirer, including "Table Talk." Print is good.
This here "Insider" blog will remain, as well.
Now back to our regular programming.
Michael Klein, Philly.com
After five years of racking up awards at their restaurant James in Bella Vista, Jim and Kristina Burke are preparing to pack up and move.
Jim Burke told me that with their lease expiring at the end of June, they began thinking about the long term.
Their conclusion: Set up in a high-traffic neighborhood that's better suited for fine dining.
Michael Klein, Philly.com
Father and son Bob and Brandon Bitros, whose last restaurant was Azure in Northern Liberties (now Cantina Dos Segundos), are taking over the former Moe's, an old man bar at 1235 E. Palmer St. in Fishtown, around the corner from Kraftwork. Interstate Draft House, opening in two to three months, will be a beer pub ("not a gastropub," Bob Bitros cautions) with 16 American beers on tap. Food from onetime Azure chef Julio Rivera will be "local from all over the country," as Bitros puts it, and will include his signature beef and seitan tips from Azure.
---
Berwyn is getting a French BYOB this weekend from chef Maurice de Ramus -- whose past includes cooking at Onasis (a Greek BYOB in Cherry Hill), chef-ownership at Zen (a sushi-ist in Northern Liberties), and opening chef for A La Maison (the French BYO in Ardmore). At La Petite Maison, he's sharing space with Royal Tea Cafe, a tea supplier in a Victorian house at 720 Lancaster Ave. It's dinner only for now, Tuesdays through Saturdays from 5 to 10 p.m., with entrees in the mid- to upper-$20s (610-450-6133).