Archive: March, 2010
Michael Klein, Philly.com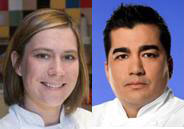 Set the DVR to Food Network, 10 p.m., Sunday, May 9.
Jose Garces will defend his honor on Iron Chef America against Kelly Liken, chef-owner of an eponymous eatery in Vail, Colo., and a more casual bistro in nearby Edwards, Colo.
Liken, a Pittsburgh native whose bio says she graduated first in her class at Culinary Institute of America, is a finalist for the James Beard Foundation's 2010 award for best chef, Southwest. (The awards ceremony will be in New York on May 3.) Garces won last year's Beard for best chef, Mid-Atlantic.
Watch CBS News Videos Online
Michael Klein, Philly.com
Even if you're not a good cook, there's room for you on the Food Network.
Casting directors for Worst Cooks in America will scout for season two from 10 a.m. to 3 p.m. Saturday at the Loews Philadelphia Hotel, 12th and Market Streets.
Candidates or their victims should e-mail info (including photo and example of kitchen disaster) to worstcooksphilly@gmail.com.
Michael Klein, Philly.com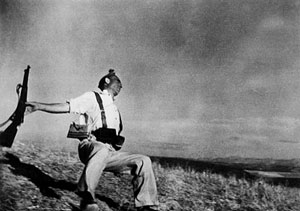 Audubon's Kelly Norton, who waits tables and hosts at the Radisson in Valley Forge (mainly at Chumley's), settled for $5,000 after missing the answer to the $25,000 question on today's episode of a Dancing With the Stars-themed week of Who Wants to Be a Millionaire.
Norton started in the hot seat on Tuesday's show, where she made it up to the $5,000 question. She continued as a holdover contestant, where she started by looking at the $7,500 question with all three lifelines left.
That was: "Off the dance floor, Shannon Elizabeth had a recurring role playing Ashton Kutcher's love interest on what popular sitcom? A: Everybody Loves Raymond, B: That '70s Show, C: Malcolm in the Middle, D: Arrested Development." She correctly guessed the answer to be B.
Michael Klein, Philly.com

CBS3 has announced that anchor/reporter Lesley Van Arsdall, 37, and her husband, Mike Joson, are expecting their first child in September.
He owns Young Sports, a gym for youngsters in Wayne.
The couple married last July.
Michael Klein, Philly.com
The Dark Fields -- that Bradley Cooper-Robert De Niro thriller that starts shooting here next month -- has a release date, says ComingSoon.net.
It's March 18, 2011.
Foul weather has delayed the start of shooting in New York, says OLV, an online resource for movie locations.
Michael Klein, Philly.com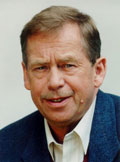 Former Czech President Václav Havel and his wife, Dagmar, are planning to attend the May 26 opening night of Leaving, the playwright's first play in 20 years.
Leaving will receive its U.S. premiere production under the Wilma Theater's Jiri Zizka's direction.
David Strathairn (Good Night, and Good Luck) stars as ex-chancellor Vilėm Rieger, who (according to the show notes) "confronts large questions of truth and power while he struggles to manage his eccentric family and humorous bevy of functionaries. Allusions from Chekhov's The Cherry Orchard and Shakespeare's King Lear invade the Chancellor's consciousness in this wry political tragicomedy."
Michael Klein, Philly.com
Vic Sushi at 2035 Sansom St. changed hands recently, and founder Qi-Yang "Vic" Shi has moved to the Spring House/Ambler area, where he's opened a spot called... Vic Sushi.
Vic explains that the new Vic (832 N. Bethlehem Pike, 215-628-3508) is larger and has a menu that includes sushi as well as cooked Japanese and Thai dishes. Menu and details are here.
Vic's former staff now owns the old Vic.
Michael Klein, Philly.com
First Person Arts is planning an interactive program for its next event, "Edible World: Sunday Supper and Family Lore," which is at 6 p.m. April 11 at Bridget Foy's at Second and South Streets.
It's a family recipe and story contest. Those who buy tickets are invited to submit family recipes and an accompanying story.
(See a sweet family story by The Inquirer's Rick Nichols here.)