Archive: February, 2011
Michael Klein, Philly.com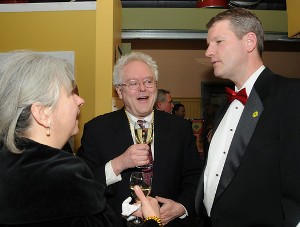 Food writer Rick Nichols, who just left The Inquirer, will be honored by Reading Terminal Market, one of his haunts. A new multipurpose room, intended for visiting groups, will be named for Nichols. The market held its Valentine party on Saturday; photos and recap at PhillyChitChat.com.
---
A liquor-license application was posted last week on the northeast corner of Sixth and Bainbridge Streets, next to Bistrot La Minette and across from Beau Monde. Public records identify the owner as 6th & Bainbridge Bar & Grill LLC, whose sole member, as filed with the Department of State, is Iordanis Fetfatzes, also known as Jordan Fetfatzes, whose father owns Bella Vista Beer Distributors and whose brother, Chris, owns Hawthornes at 11th and Fitzwater Streets in South Philly. The transferee of a liquor license, especially in a development deal, is not always the ultimate operator.
---
Pineville Tavern, just south of New Hope in Bucks County, will be featured at 9 p.m. next Monday (3/7) with Guy Fieri on Diners, Drive-Ins & Dives on the Food Network. Pineville chef Drew Abruzzese will cook P.V.T. Snapper Soup (or as Fiero refers to it on the episode, "Snapping Turtle Soup"). Abruzzese will also reveal the recipe for his family's fourth-generation meat ravioli and marinara sauce. The episode was taped last August along with stops at Good Dog Bar in Center City, Honey's Sit 'N Eat in Northern Liberties, and Memphis Taproom in Port Richmond/Kensington. *Post edited.
Michael Klein, Philly.com

Since the sun set last month on Solaris Grille after nearly 13 years. a slew of restaurateurs (including Georges Perrier) toured the space at 8201 Germantown Ave.
The new tenant will be a casual place called Chestnut7 Kitchen & Bar, playing off the old telephone exchange. Principals are Kevin Clib (who owns Bridgets and KC's Alley in Ambler) and Brian Harrington (whose holdings include City Tap House and the Public House in Philly).
Clib says they're opening up the interior, as well as the facade, to allow for a 35-seat U-shaped bar, backed by 12 to 20 beer lines. They're also ripping out the tile floor in favor of hardwood.
View Larger Map
Michael Klein, Philly.com
National Pig Day is March 1. The holiday was founded in 1972 by two sisters who sought to give the pig its props.
Not chops.
And here comes Chef Jordan "Red" Sauter of Philadelphia Bar & Restaurant (120 Market St.) in Old City with a different idea.
Michael Klein, Philly.com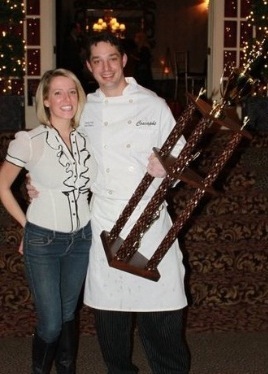 Bacon-infused cotton candy? How about a grilled cheese sandwich wrapped in bacon?
Chefs tap their inner glutton at the annual John DeBella's Comfort Food Fest -- making dishes that won't usually appear on their menus -- and Wednesday's event did not disappoint.
For years one through three, the chef from host venue, Northern Liberties' Cescaphe Ballroom, came up empty in the win department.
Michael Klein, Philly.com
Ready for some Texas barbecue this summer?
The short-lived Cornerstone Market, on the Fishtown-Northern Liberties border at 19-21 W. Girard Ave., is being primed for Bubba's Texas BBQ, a sitdowner with bar attached to the open kitchen. (All hinges on community approval.)
Steve Ehrenhalt, the developer who owns the building, is partnering with Robert "Bubba" Kolbasowski, a native of Austin, Texas, who now lives in the New Jersey Pine Barrens. The two met 20 years ago when Kolbasowski, then site superviser for a construction company, pulled up with his smoker on a trailer.
View Larger Map
Michael Klein, Philly.com
Michael D'Addesi is fixing up his restaurant and building at Eighth and Fitzwater Streets, formerly Vesuvio, in stages. The first completed area is the bar, which he's calling Little Bar. Behind the wall, work proceeds on the rest of the space, whose concept has not been announced. Little Bar's menu is made up of small plates and is served nightly. Menu is here.
---
Tequila Joe's in Oreland has closed, a week after owner John Anderson decided to operate it as a BYOB following the loss of its liquor license. Need Mexican? Johnny Mananas at Midvale and Ridge Avenues in East Falls has reopened under new management and with a new chef, Sean Ford (who opened Continental Mid-town as executive sous chef and manned the one-man kitchen at Salt & Pepper when it was a BYOB). The place will expand next door this summer with a tapas bar. New menu, aquí.
---
Square 1682 at the Hotel Palomar (17th and Sansom Streets) is luring Susanna Foo back to Rittenhouse Square – for one night, anyway. Foo, owner of Radnor's Susanna Foo Gourmet Kitchen, will do a $65-a-head kitchen collab with 1682 executive chef Guillermo Tellez on Sunday, February 27. The three courses, side by side, will be paired with wines from Pennsylvania's Penns Woods Winery. A cut of proceeds will benefit Philadelphia Academies. Menu is here.
---
IHOP restaurants are celebrating National Pancake Day on Tuesday, March 1 from 7 a.m. to 10 p.m. with Children's Miracle Network Hospitals. IHOP will offer a free short stack of its buttermilk pancakes, and diners will be asked to make a donation to support the Children's Hospital of Philadelphia.
Michael Klein, Philly.com
Tony Clark, who last year left his 10-year private-chef job and followed up with a short-lived stint as exec chef at Wilmington's Harry's Savoy Grill, is a solo act again.
He just signed to open Tony Clark's Old Grange Restaurant at the 1850s-themed Cold Spring Village in Cape May. (He's been teasing his Facebook followers about the new location, dropping hints that he'd open a place in Westmont, his hometown.)
The Old Grange, taking advantage of the local farms as well as the seafood, will serve breakfast (oyster eggs benedict, average price $7), lunch (soups, salads, sandwiches, pastas, average $9), and dinner, as well as early bird specials ("which are big down here").