Archive: February, 2010
Michael Klein, Philly.com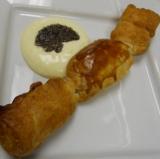 You're going to hear much in the coming weeks about Apollinare, the Umbrian restaurant that's in a soft-opening phase in the Piazza at Schmidts in Northern Liberties (1001 N. Second St., 215-923-2014).
In only his first weeks in town, chef Andrea Scotacci won a prize the other night at the Philly Cooks event for his crescionda, a chocolate cakey spoon bread that sent the masses swooning.
Scotacci and co-owner Fabio Auguadro, boyhood friends from Spoleto, have taken over the former Vino. They upgraded the kitchen, imported a pasta maker and baker, and are now awaiting the new tableware from Italy and a few decorative touches. The official grand opening is a few weeks away.
Get the flash player here: http://www.adobe.com/flashplayer
Michael Klein, Philly.com
Rudi's on Park, the ambitious bistro in the heart of Swarthmore, has gone el foldo after three months.
While I await a call from chef/owner Rudi Doeller to find out the "whys," I'll note that management is offering refunds on gift cards -- a rarity.
Those holding cards are instructed to show up at the restaurant on Saturday, March 6. Instructions are here.
Michael Klein, Philly.com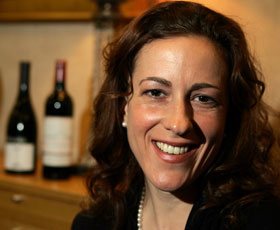 Big cheers to Melissa Monosoff, sommelier at Savona in Gulph Mills, who is feeling giddy now, the day after she was named only the 15th female master sommelier in the United States.
Yes, it was the wine, she confided by phone from Napa, Calif.
The Court of Master Sommeliers puts candidates through a grueling series of exams.
Michael Klein, Philly.com
The Rouge-owned burger shop 500° - on the 1500 block of Sansom Street next to Roy's - is shooting for a March 17 roll-out.
As I reported back in October, owners Rob and Maggie Wasserman were inspired by their burger sales during last year's Rittenhouse Row Festival to open this upscale but budget burger joint.

About 20 people will sit inside; most business will be takeout.
The interior has been framed out, and electrical work is next.
Michael Klein, Philly.com
OpenTable, the restaurant reservation site, is out with its 2010 Diners' Choice Awards for best service, based on nearly four million reviews submitted by OpenTable diners from 10,000-plus restaurants
On the list -- among such standouts as Daniel, Le Bernardin, La Grenouille, TRU, and Per Se -- are Gilmore's in West Chester, owned and operated by Le Bec-Fin alumnus Peter Gilmore and his wife, Susan, and Vetri in Center City, owned and operated by Marc Vetri and Jeff Benjamin.
Interesting side note: Neither restaurant uses a PR firm, and the judging was based on public sentiment -- not editors or food professionals.

The list was alphabetized, not ranked.
Michael Klein, Philly.com
Another sign of the times:
The Wayne Edwards men's store is dark at 1525 Locust St.
Owner Wayne Glassman, who's been in menswear for 30 years (six years on Locust Street, preceded by nearly a quarter-century in a larger store on Walnut Street), says the economy was the "4,000-pound gorilla."
Michael Klein, Philly.com
Correcting a post from last night:
Dr. Phil McGraw did not sit down with Penn Valley's Michael and Holly Robbins, whose son Blake has been at the center of the laptop-surveillance case at Harriton High.

But the Dr. Phil show yesterday did interview two people with ties to the Lower Merion School District as part of a show about the controversy, a spokesman for the Dr. Phil show said.
Dr. Phil producers used the "Talk Philly" set at CBS3 yesterday to do a live "talk-back" with Phil McGraw, who was on set in Los Angeles.

An air date for the interview, which will be accompanied by news footage, has not been announced.

Meanwhile, the family's lawsuit against Lower Merion School District has made Wikipedia.
Michael Klein, Philly.com
Last night, dozens of chefs from 40-some restaurants competed in the Philly Mag-sponsored benefit for the Ronald McDonald House at the Loews Hotel.
The winners:
Best Display: Buddakan