Archive: December, 2011
Michael Klein, Philly.com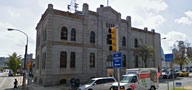 The crew behind Farmers' Cabinet (1113 Walnut St.) will tackle a new project at the Frank Furness-designed former bank building at 600 Spring Garden St. that has spent recent memory as a series of sketchy clubs (Transit, 90 Degrees).
The main floor, with its three-story-high ceiling, will be transformed into what they say will be the city's largest beer hall, a beast featuring more than 85 taps.
The menu will consist of a blend of Southern-style barbecues, served family style. The downstairs will feature authentic Tiki drinks and offer a Pan-Asian menu. The third floor will be utilized as an in-house brewery/distillery.
Michael Klein, Philly.com
Not too long ago, everyone was opening a BYOB. Then came the recession, and people realized that restaurants were real businesses designed to generate profits. (Your average BYOB, alas, simply does not make much.) So restaurant operators turned their focus to alcohol, that age-old booster of cash flow and relaxer of inhibitions.
This year saw a bumper crop of bars/restaurants with higher-aiming food and beverage programs.
Here are a couple dozen top yearlings in the Philly region, in alphabetical order.
Michael Klein, Philly.com
Since May, when the University of the Arts reclaimed its space on Broad Street near Walnut after 21 years, the crew from the Italian Bistro has been hunting for a new location in the neighborhood.
The search is apparently over. My real estate sources tell me that a deal is now on the table that will put the crew on the northwest corner of Broad and Spruce Streets, where Ted's Montana Grill was. Ted's closed Wednesday after seven years.
I hear that the name will be Fratelli's Italian Bistro, which tells me that the operators are not planning to replicate the old concept, which was middle-of-the-road, red-gravy Italian. Stay tuned.
Michael Klein, Philly.com
Former Horizons manager Nicole Marquis has settled on HipCityVeg as the name of her vegan quick-serve coming to 127 S. 18th St., near Rittenhouse Square, this winter. Previous post.
Condolences to Georges and Bernard Perrier, whose mother, Yvonne, passed away Christmas Eve at age 101 in France. She was a biologist and a local health commissioner.
Chef change at the Moshulu on Penn's Landing, as the well-traveled Anthony Bonett (Du Jour, Opus 251, Alison at Blue Bell, Philadelphia Fish & Co, Tony Clark's.) takes over for Ralph Fernandez, who has joined Harrah's Chester casino as executive chef.
Michael Klein, Philly.com
Closings in December are rare - it's traditionally one of the busiest months of the year - but...
Today was the finale of the Center City location of Ted's Montana Grill, just shy of its seventh anniversary at Broad and Spruce Streets. That location previously was home to two much-shorter-lived enterprises in the pre-Kimmel Center era, Avenue B and Joseph's on the Avenue. Ted's Warrington location is still open.
There's now a for-rent sign at 501 Fairmount Ave. on the edge of Northern Liberties, where Lafayette Bistro stood for two years.
Michael Klein, Philly.com
Iron Hill Brewery & Restaurant has set Wednesday, Jan. 4, at 4 p.m., for the opening toast of its Chestnut Hill location at 8400 Germantown Ave.
Founders Kevin Finn, Kevin Davies, and Mark Edelson will do the ceremonial first pour with Councilman Bill Green and Councilwoman Cindy Bass. The restaurant will officially open to the public at 5 p.m. It will serve lunch and dinner daily.
Head brewer Paul Rutherford will oversee Iron Hill's six house beers. With chef Mario Romero and general manager Matt Radebach, this is the youngest opening team among Iron Hill's nine locations: West Chester, Media, Lancaster, North Wales and Phoenixville, Pa.; Newark and Wilmington, Del.; and Maple Shade, N.J.
Michael Klein, Philly.com
Sad news out of Margate, as Leo Heintzelman, owner of the landmark Dino's Sub Shop on Ventnor Avenue, has died at 49 after what his death notice calls a short illness. Cancer, I hear.
Leo, a true gentleman who worked at the shop for 29 years (seven as its owner), was a soft touch for local charities and causes.
It's not yet clear what his passing will mean to the shop's planned second store in Ocean City.
Michael Klein, Philly.com
Even hockey fans without a ticket to Jan. 2's Winter Classic game at Citizens Bank Park can eat well.
Aramark says it's enlisted Bassett's Original Memphis BBQ from Moorestown, Jose Garces' taco truck, Guapos Tacos, and the Nomad Pizza Co. wood-fired pizza truck to operate outside the stadium before the opening faceoff. (Nomad is due to open a restaurant at 611 S. Seventh St. next month.)
Aramark expects to sell 12,000 cups of coffee and hot chocolate, plus 2,000 bowls of soup (tomato bisque or chicken, cannellini bean and Tuscan kale).