Archive: November, 2010
Michael Klein, Philly.com
SquareBurger, the Stephen Starr-run food stand in Franklin Square, will remain open in December on Saturdays and Sundays, as well as evenings during the week between Christmas and New Year's. Menu additions: grilled cheese on brioche with a bag of chips ($2.75), chicken noodle soup ($3), tomato soup ($3), grilled cheese with tomato soup ($5), and hot chocolate ($2).

Free fries! Heinz is stopping here with its Heinz Ketchup Road Trip to show off the new Dip & Squeeze packaging. Heinz will give away fries and ketchup on the following schedule: Thursday (12/2) on the 1600 block of Chestnut Street from noon to 1:45 p.m.; on the 200 block of South 40th Street at Locust Walk from 2:30 to 4:15 p.m.; and at 30th Street Station from 5 to 7 p.m. On Friday (12/3), the plan is to hit First Friday on the 200 block of Market Street from 5 to 11 p.m. On Saturday (12/4), Heinzers will be on Rittenhouse Square (1800 block of Walnut Street) from 11 a.m. to 6 p.m.
* Saturday's location changed. Follow the truck on Twitter.
Michael Klein, Philly.com
Peter McAndrews, the sandwich maestro behind Paesano's and Modo Mio, just wrapped a two-day shoot against chef Bobby Flay for a Food Network Throwdown.
The contest was over "beef brisket grinders"; see Rick Nichols' ode to the "Paesano" sandwich here.
Cameras taped Monday at the Paesano's at Ninth and Christian Streets and followed up with more video drama Tuesday at FUEL, the so-called "Real World" house at Third and Arch Streets.
Michael Klein, Philly.com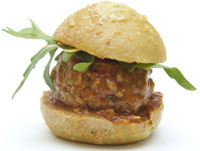 A few updates on restaurant openings:
And one tasty dish:
The Village Belle in Queen Village has added the gravy meatball sliders from co-owner Joey Campanaro's NYC spot, the little owl. (Here's an explainer.) The sliders, a combo of beef, veal, pork, and pecorino, are cooked in gravy that Joey and brother Lou learned to make from their grandmother Rosie Bova. They're served on a garlic bun baked in-house.
Michael Klein, Philly.com
Back on July 30, 2009, chefs Joe Scarpone and Matt Levin, plus developers Richard Rivera and Robert Nydick, led me on a hard-hat tour of a few spaces on Main Street in Manayunk that they were developing: a paninoteca/wine bar for Scarpone called Agiato (pressed sandwiches, farmhouse feel, long communal table, small wine list); a bread bakery several doors down, also known as Agiato; a grocery store on the corner of Main and Grape Streets; and Levin's "rock and roll barbecue joint" called Rubb, up the street next to the firehouse.
Well, you know the vagaries of restaurant development. Levin left the project shortly after, picked up new partners, and set up the wildly hot Adsum at Fifth and Bainbridge Streets. Manayunk activists made sure to weigh in, too.
A couple of months ago, Main Street Market and the bread bakery opened. The Rubb space is still empty.
Michael Klein, Philly.com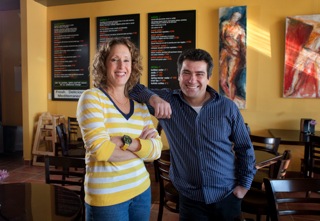 Hummus, a Middle Eastern serving the Penn community from 3931 Walnut St., opens a Main Line branch on Friday (11/26). It's at 18 Greenfield Ave. in Ardmore. On its Facebook page, the casual eatery promises free falafel and shawarma sandwiches on Black Friday. It's open lunchtime through dinner.

Pistachio's, a café, carry-out and catering specialty foods restaurant at 237 E. Gay St. in West Chester, was opened recently by Chris DiFabio, who sold his catering business in Media several years ago. In Tuscan style environs, Pistachio's does lunch and dinner. Menu examples: pstachio chicken tenders with honey mustard sauce, eggplant parmigiana, blackened crabcake portabella, chicken marsala.
Michael Klein, Philly.com
WYSP morning man Danny Bonaduce and his long-suffering fiancee, Amy Railsback, got married Monday in Hawaii, she told me from Maui.
It was a private ceremony of just the two of them, plus the Rev. Roland Nono, at the Four Seasons.
It's the third marriage for Bonaduce, 51, who had a starter marriage in his mid-20s and was married for 15 years to Gretchen, the mother of his two kids. (He and Gretchen were married on the very day they met.)
Michael Klein, Philly.com
Cast your eyes to Passyunk Avenue near Broad, where the casual Mondial Cafe is taking shape at 1941 E. Passyunk Ave. The roomy storefront, nestled between the two Juniper Streets, initially was to be the Bottle Shop, which settled a block away. Owner Ervis Elezaj says his menu will include dishes from his native Albania as well as nearby Mediterranean countries. His menu is not ready, and he hopes to open in two weeks.

At 1710 E. Passyunk, right off the intersection of 12th and Morris, reformed lawyer Jesse Spalletta is readying Plenty, a prepared-foods shop. Spalletta, whose dining background includes bartending at such spots as Twenty Manning and Valanni, plans to stock her cases with salads, cheeses, charcuterie, and comfort food. She says she was driven to open because she lives in the neighborhood and "wished we had some place between a restaurant and takeout." It's three weeks away, she says, assuming that PGW gets a crew out to repair her gas line.
Michael Klein, Philly.com
One spot is known for food, the other for cocktails.
When they work together, well, who knows what could happen.
Mike Welsh, managing partner at The Franklin Mortgage & Investment Co. on 18th Street near Sansom, is teaming up with Mitch Prensky of Supper on South Street and his Global Dish catering. Welsh's team will develop seasonal cocktail menus for Supper and consult on Supper's beverage program. Prensky, in turn, will develop small-plate menus for the Franklin and prepare/supply the food.