Archive: October, 2011
Michael Klein, Philly.com
The second location of Honey's Sit 'N Eat, at 21st and South Streets, is a definite go, as Ellen Mogell and Jeb Woody got the keys to the space today. Construction starts apace and is on track for sometime spring 2012. At Honey's original at Fourth and Brown Streets in Northern Liberties, hours have been shifted earlier; it now opens at 7 a.m. Mondays through Saturdays, and closes at 8 p.m. Sunday hours are 7 a.m. to 5 p.m.
---
Speaking of this part of town, NakedPhilly notes that onetime greasy spoon Pinky's on South Street near 19th has reopened as Sunny Point.
---
John Longacre says American Sardine Bar has passed its health inspection, which means that the long-delayed pub at 18th and Federal Streets in Point Breeze awaits for a liquor inspection. Opening, therefore, could be the week of Nov. 13.
Michael Klein, Philly.com
Opening Tuesday, Nov. 1: Little Louie's BBQ (505 Haddon Ave., Collingswood), a Southwest retro-style setting for chef Gerald Dougherty, who's trading on his love of barbecue and his white-tablecloth experience (Founders at the Bellevue, Bogart's in the Latham Hotel, the Moshulu). It's the former Prime 505.
Little Louie's, named after a fictional dachshund, features a $6 roasted rotisserie chicken to-go and meats and chicken representing North Carolina, Kansas City, Memphis, and Texas. It's not strictly ribs, pork and the like. Dougherty also offers smoked duck, BBQ spaghetti, salmon, and "Breakfast Anytime," a plate of hickory-smoked ham in maple syrup with eggs, fries, and Texas toast.
All this, and oldtime western flicks on the 70-inch TV, too. Leslie John Koeser of Koeser Designs did the interior, and Andrew Warner Landscaping put out old wagon wheels, faux cactus, barrels topped with a steer head skull. Hours are noon to 8 p.m. Sunday, Tuesday, Wednesday and Thursday, and noon to 9 p.m. Friday and Saturday.
Michael Klein, Philly.com
The crew from Warmdaddy's -- with chef Al Paris (Circa, Zanzibar Blue, Pat Bombino's, Mantra, etc. etc.) back in the fold -- is behind Heirloom, a 50-seat BYOB being readied for a post-Thanksgiving debut in the former Shundeez Market space at the top of the hill in Chestnut Hill (8705 Germantown Ave.)
A rep for the project says it will feature "new American regional cuisine influenced by the rich flavors of our nation's vibrant culinary history" and mentions such dishes as scallops with pork belly and lobster with garnet yam dumplings.
Warm atmosphere will feature reclaimed wooden tables and Pennsylvania stone.
Michael Klein, Philly.com
A restaurant is already in the wings to replace L'Oca at Fairmount Avenue and Corinthian Street across from Eastern State Penitentiary in Fairmount.
Chef Matt Zagorski (ex-Rouge and 500 Degrees) is partnered with Jack Henderson on Hickory Lane, an American bistro that Henderson says he hopes will open by mid-December.
Hickory Lane was an early name for Fairmount Avenue.
Michael Klein, Philly.com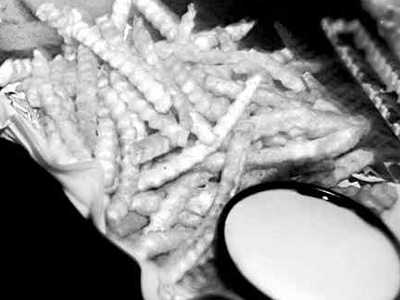 Your Italian restaurant is in Maryland.
You serve Maryland Crab Soup, and that's fine.
You offer Maryland Crab Fries, and you get nasty letters from Pete Ciarrocchi's lawyer.
Michael Klein, Philly.com
The i's have not been dotted, so it is a wee bit early in the game, but it appears that Ernie Salandria has a taker for his restaurant space at 1521 Spruce St., which for years was the destination Ernesto's 1521 Cafe.
The prospective owners are a very-well-traveled and -pedigreed husband and wife team who want to keep anonymous for now.
They'll keep everything fresh and local. His cooking will cover European techniques and the menu will draw from Italian, French and Spanish.
Michael Klein, Philly.com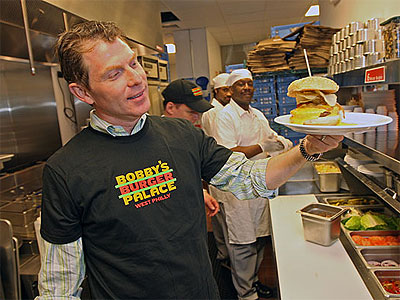 Iron Chef Bobby Flay will attend the grand opening of the first South Jersey outlet of his Bobby's Burger Palace.
It starts at noon Tuesday, Nov. 1, and it's in Cherry Hill Mall, Route 38 in Cherry Hill (856-382-7462). There are no alcoholic beverages at this one.
This is Flay's eighth BBP; the first outpost opened in July 2008 in Lake Grove, N.Y.; the second BBP opened in December 2008 in Eatontown, N.J.; the third opened in March 2009 in Paramus, N.J.; the fourth opened in July 2009 in Uncasville, Conn.; the fifth opened in April 2010 in Philadelphia; the sixth opened in August 2011 in Washington, D.C, and the seventh opened in College Park, Md., earlier this month.
Michael Klein, Philly.com
Here are a few items of note, which have piled up since my wife and I welcomed twins earlier this month and I decided to back off work (somewhat) for a few weeks:
Doughnuts and beer: In a brilliant pairing straight out of The Simpsons, the Philly Krispy Kreme folks will offer their finest alongside craft beers at Devil's Den, 11th and Ellsworth Streets in South Philly, on Tuesday, Oct. 25 from 11 a.m. to 2 a.m. A beer and doughnut "flight" is $10, with $4 from each being donated to Philadelphia Animal Welfare Society (PAWS). They'll pair the Original Glazed with PBC's Joe Porter; the Cinnamon Bun doughnut with Yards' Thomas Jefferson Ale, and Pumpkin Spice Cake Doughnut with Weyerbacher's Verboten, a Belgian-style pale ale.
Tune in to Captain Pat Croce: The former Sixers front man owns three bars in Key West, Fla., and HDnet's Drinking Made Easy (with host Zane Lamprey) will visit Croce's Rum Barrel, Island Dogs Bar and The Green Parrot on Wednesday, Oct. 26 at 8 p.m.