Archive: October, 2008
Michael Klein, Philly.com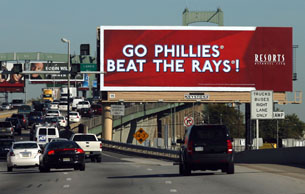 How about the "Go Phillies. Beat the Rays!" banner that Resorts had up on the Walt Whitman Bridge?
The casino has put the 60-foot-by-20-foot banner on eBay -- starting bid $500, free shipping -- with proceeds destined to the United Way of Atlantic County.
Bidding ends Thursday afternoon.
Michael Klein, Philly.com
CBS3, 6ABC, NBC10, Fox29 and Comcast SportsNet will televise Friday's Phillies parade, which starts at noon at 20th and Market Streets and heads to the sports complex.
CBS3's Eyewitness News and its sister station, CW Philly 57, will be on from noon to 4 p.m. (with a repeat from noon to 4 p.m. Sunday).
6ABC's Action News will have Jim Gardner and Gary Papa anchoring from noon "to the event's conclusion."
Michael Klein, Philly.com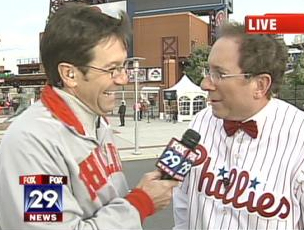 Look who joined Fox29's John Bolaris for his weather forecast before the second part of World Series Game 5.
It's his former NBC10 compatriot, Glenn "Hurricane" Schwartz.
NBC10 could use the additional face time for one of its stars. The station curiously chose to ignore live coverage of the Phillies win after the game -- shunting it off to Myphl17 for its 10 p.m. news before picking up at 11 p.m.
Michael Klein, Philly.com
The Phillies are world champions and radio station Now 97.5 likens it to Christmas coming early. The station will start playing Christmas music starting Friday at 5 p.m. It has not been determined how long the yule tunes will last. Could this be the first station in Philly to go all-Christmas?
Michael Klein, Philly.com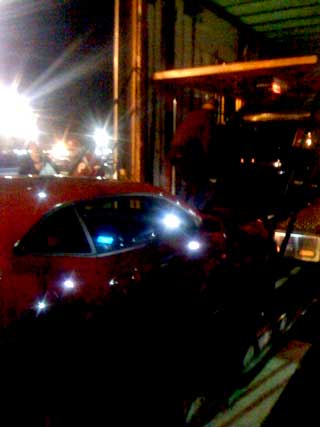 You wouldn't expect Cole Hamels to drive home from the ballpark after the Phils won the World Series. And get champagne all over the interior of his red 2010 Camaro? Or risk damage from the jubilant mob?
The World Series MVP arranged for a truck to take it away.
Presumably, he and his teammates have alternate transportation for a big night out.
Michael Klein, Philly.com
The national anthem won't be sung tonight as Game 5 of the World Series resumes in the bottom of the sixth inning. (Remember, this is not a new game.)
Navy Petty Officer Dorcus Whigham, who sang "God Bless America" during the seventh-inning stretch Monday, will be back before the first pitch. The Phils will have a good ol', crowd-participatory rendition of "Take Me Out to the Ballgame" during tonight's stretch.
Michael Klein, Philly.com
Danny Bonaduce, the Delco-bred former Partridge and current L.A. radio host, supposedly will start on the rock station on Nov. 10.
Two sources say that the contract is in Bonaduce's hands and that Bonaduce's sidekick Shila will be relocated with him. Metro will produce, as he did for the last regular WYSP morning show, hosted by Kidd Chris.
Back on Oct. 1, I blogged that Bonaduce -- now under contract to CBS Radio for one hour a day -- was on WYSP's short list for mornings and that Bonaduce said he'd be on the next plane to PHL if he were offered the job.
Michael Klein, Philly.com
Angi Taylor, who was Chris Booker's sidekick on his Q102 morning show until Clear Channel blew it up over the summer, has landed regular work. She's joined the morning show at Clear Channel's KISS-FM in Chicago, according to the trade site FMQB.com.
KISS's program director is Rick Vaughn, who until recently was Q102's program director
Taylor had worked on Q102 by phone line from her Chicago apartment.