Archive: January, 2011
Michael Klein, Philly.com
Alex Capasso says he might be ready as soon as this weekend (Feb. 5-6) for the unveiling of the side-by-side West Side Gravy and Blackbird Dining Establishment, in the old Woolworth's at 714 Haddon Ave. in Collingswood.
Blackbird, which Capasso opened at 619 Collings Ave. in spring 2007, is taking part of West Side Gravy's space in the sunlit storefront. WSG, a comfort-fooder, opened last spring.
Capasso says the restaurants, which will have separate entrances, "conceptually" will be the same as before -- Blackbird is the more refined. He'll be executive chef, with longtime assistant William Connelly as chef de cuisine for both dining rooms.
Michael Klein, Philly.com
In a follow-up to my report Saturday, state police say 18 citations were issued for underage drinking early Saturday at Grey Social (132 Chestnut St.).
In addition, one person was cited for public drunkenness, 13 unsupervised minors were cited for being on the premises, and 5 fake IDs were found. Criminal charges are also pending, said Sgt. William LaTorre from the State Police's Bureau of Liquor Control Enforcement.
LaTorre said the state police, city police, and city Department of Licenses & Inspections chose to investigate after a series of assaults over the weekend of Jan. 21-22. The underage suspect in one aggravated assault had been drinking at Grey, LaTorre said.
Michael Klein, Philly.com
Krispy Kreme is continuing its revival. As the Fox Chase location goes great guns, a Center City spot is being readied. It's at 16th and Chestnut Streets, where the Rite Aid was. (A Children's Place will take one side of the store, while Krispy Kreme takes the 16th Street side.) The "HOT NOW" sign should be flashing in early May.
And this just in: Krispy Kreme has gotten community approval for a shop at the former KFC location at Cuthbert Boulevard and Haddon Avenue in Collingswood. That's on track for late summer.
Michael Klein, Philly.com
Baja Fresh, rolling out new specials from Sundays through Wednesdays, wants to get everyone's attention.
It's doing that by giving away two tacos to each customer on Tuesday, Feb. 1 at its Southeastern Pennsylvania stores (Abington, Willow Grove, Montgomeryville, King of Prussia, and Conshohocken).
Location finder is here.
Michael Klein, Philly.com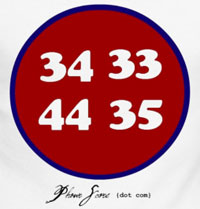 Tom Durso and Tom Goyne's Phillies blog, PhourScore, is selling shirts bearing the numbers of the team's Four Aces as a fundraiser for Jamie and Karen Moyer's foundation.
Durso says all profits -- estimated at $2 to $5 a throw -- will be sent to the former Phil's charity, which helps kids endure periods of emotional, physical, or financial distress.
Michael Klein, Philly.com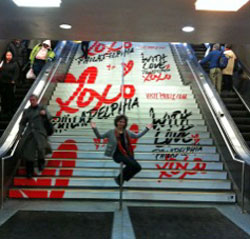 Penn Station in New York City was "dominated" over the weekend by the Greater Philadelphia Tourism Marketing Corp., which installed 225 "With Love, Philadelphia" ads.
A GPTMC rep said Philly is the first U.S. destination ever to "dominate" the station.
It cost upwards of $325,000 for the ads, which will be exposed to the 6 million station users through February, a GPTMC rep told me.
Michael Klein, Philly.com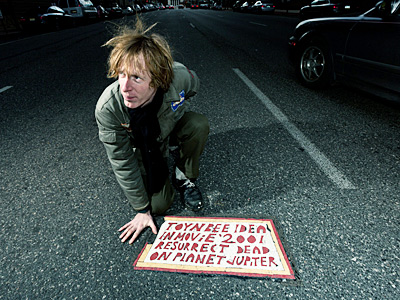 Big news from the Sundance Film Festival, which handed out the awards Saturday night:
Resurrect Dead: The Mystery of the Toynbee Tiles, directed by Willow Grove native Jon Foy, won the U.S. Documentary Competition Directing Award.
Foy followed musician/artist Justin Duerr's search for the origin of the so-called Toynbee tiles, which are implanted in streets around the world. Most are in Philadelphia.
Michael Klein, Philly.com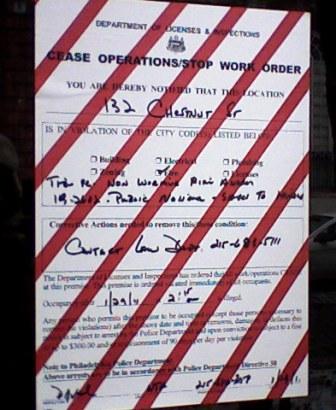 Grey Social at 132 Chestnut St. in Old City, which bills itself as "an exclusive retreat aimed for a sophisticated audience," is out of business for now.
Law enforcement, including the state police, city police, and reps of Licenses & Inspections, visited just after midnight Friday night and cited the place for a "non-working fire alarm" and service to minors.
I have a call in to the state police for elaboration.