Michael Klein, Philly.com
Two landmark neighbors on Germantown Avenue in Lafayette Hill will open Thursday, Nov. 7.
The General Lafayette Inn, restored and remonickered Barren Hill Brewery & Restaurant, goes public.
So does Brittingham's (640 E. Germantown Pike, 610-828-7351), which shut down April 1 for a makeover.
Michael Klein, Philly.com
Nicholas Elmi heard it last week for the first time.
He was walking down the street when a man called out, "Hey! You're that guy!"
As in, that guy Nick Elmi, who is cruising along on Season 11 of Bravo's Top Chef.
Michael Klein, Philly.com
Late notice, yes, but Nancy Glass Productions is shooting a cooking show tonight (Friday, Nov. 1) at Pat's Steaks at Ninth and Passyunk in South Philly.
Three nonprofessional chefs will be given a pantry of "Philly ingredients" - scrapple as well as the fixings of cheesesteaks, meatballs and gravy, cannoli, Crab Fries and soft pretzels - and will be asked to create a dish using them.
The dishes will be judged by Pat's boss Frank Olivieri, Chickie & Pete's owner Pete Ciarrocchi and blogger Michele Pulaski.
Michael Klein, Philly.com
Good golly, have we been in the midst of a restaurant-opening boom.
Of course, the fourth quarter is when everyone targets an opening - to snag the bucks from office parties, homecoming visitors, and the general extra entertaining that surrounds the holidays.
Let me review what's opening this month.
Michael Klein, Philly.com
Yeah, yeah: "Everything but the oink."
People have been joking about the ingredients in that Southeastern Pennsylvania breakfast classic - scrapple - for decades.
But it is serious business - especially Saturday, Nov. 2, when Reading Terminal Market reprises its popular ScrappleFest.
Michael Klein, Philly.com
Smashburger has been on a roll with growth lately - a stand just opened at Philly International and there are shops in Radnor and Glassboro.
Now I hear about two more locations on their way to South Jersey.
December should see an opening in a new shopping center at 56 Haddonfield Road in Cherry HIll (near Mall Chevrolet).
Michael Klein, Philly.com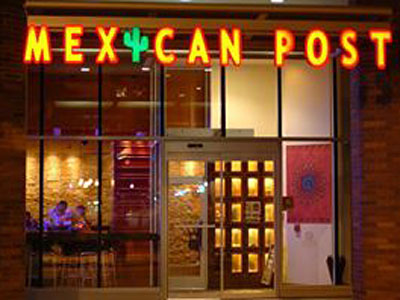 The Mexican Post location just off the Parkway at 1601 Cherry St. - which seemed to do bang-up business at least at its outdoor patio - closed Wednesday after 6½ years.
The company isn't talking about the reasons. Other locations, including a stand at the Comcast Center and the restaurant in Old City, are still open.
Municipal Court records recount that the landlord filed a judgment last spring seeking $135,000 in rent. The judgment was put on hold during appeal in July.
Michael Klein, Philly.com
New York restaurateurs have been parachuting into Philly of late.
Here's one from Chicago, and this deal is a big one for Rittenhouse Square.
Alfredo Sandoval, who owns the upmarket Mexican restaurants Mercadito in Chicago, New York and Miami, will install a branch - twinned up with his cocktail bar Double A - at 2116 Chestnut St., the new high-rise at 22d and Chestnut Streets. (And less than two blocks from Stephen Starr's El Rey.)