Michael Klein, Philly.com
Northern Liberties' very fine A Full Plate moved to a corner in Fishtown and morphed into Cedar Point Bar & Kitchen.
Now it's Suppa's time in that comfy corner space on Liberties Walk.
Chefs Angelo Polito and Georgeann Leaming - he's from Sussex County, N,J., she's from Woodstown, N.J., somehow North and South Jersey coexist - are tearing it up at the 26-seat BYOB with a wide-ranging menu:
Michael Klein, Philly.com
The 14-year run of the Dmitri's location on Fitler Square is winding down.
Reason: The building, on the corner of 23d and Pine Streets, is due to be sold next month, and with the sale will come what owner Dmitri Chimes calls "much higher rent" for his Greek seafood specialist. He's on a month-to-month deal now.
Chimes told me that he is not sure what his next move will be, though he wants to open a new restaurant - perhaps even nearby. He owns the liquor license, which is worth north of $85,000.
Michael Klein, Philly.com
In September, Dajuan "Sally" Song and her mother, Shizhou Da, moved their Chinatown restaurant, Dim Sum Garden, from 59 N. 11th St. to 1020 Race St.
This was good news for fans of what many people regard as Chinatown's best soup dumplings - including Jose Garces, who buys them wholesale for his Atlantic City noodle bar. The swankier, spacious storefront is a big step up from the fluorescent-lit shop in a noisy tunnel beneath the Hilton Garden Inn.
But then in December, the "Dim Sum Garden" sign flipped on again at 59 N. 11th St. The kitchen bustled with workers and the doors opened, with newspaper clippings touting the food appearing on the glass. The menus were the same, including the prices.
Michael Klein, Philly.com
"Who knows the parts of whole wheat?" Marc Vetri asks, turning to the blackboard to scribble.
"Germ!" comes one voice.
"Endosperm," calls another.
Michael Klein, Philly.com
Being that today is National Pie Day, let's talk about what Huntingdon Valley-bred author/food stytlist Susan Spungen did for a couple of months in the summer of 2012:
She wrangled pies in Massachusetts for Josh Brolin and Kate Winslet as they shot the film adaptation of the Joyce Maynard novel Labor Day, which reaches theaters Jan. 31.
This work not only meant converting "cases and cases" of fresh peaches into hundreds and hundreds of pies, but helping to teach Brolin the technique of pie-making. (There's a scene in which Brolin's bad-boy character, Frank, gets baking, as it were, with Winslet's mom character, Adele, and the heated interplay supposedly ranks up there with Demi Moore and Patrick Swayze's pottery-making romp in Ghost.)
Michael Klein, Philly.com
In today's New York Times, Pete Wells reviews the always-jammed East Village location of Philly export Han Dynasty (along with SoHo's Hirohisa), and comes away mystified by Han Dynasty's popularity:
"There are far better Sichuan restaurants," Wells writes. "Han Dynasty's translation of the cuisine has a thick American accent."
Han Dynasty owner Han Chiang said he had no problem with Wells' opinion and his review, which was a "zero star," as in "satisfactory."
Michael Klein, Philly.com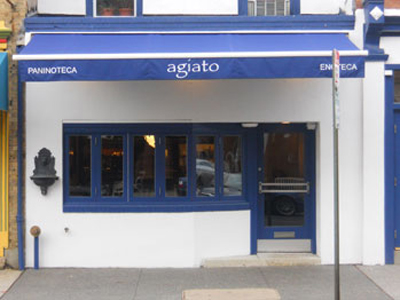 Tracking the comings and goings at Belvedere Restaurant Group is exhausting.
The partners - initially Rich Rivera and Rob Nydick - burst on the scene in 2009 in Manayunk with grand plans involving chefs Joe Scarpone (at Agiato) and Matt Levin (for a BBQ spot called Rubb). Those affiliations quickly soured.
Agiato, a nifty little wine-and-small-plate spot, opened in late 2010 and expanded in mid-2012. It opened and closed a couple of times. Meanwhile its bread bakery, also Agiato, opened nearby, followed by the ambitious Main Street Market down the street.
Michael Klein, Philly.com
Tonight (1/30/14) is the opening of Paris Bistro inside the Chestnut Hill Hotel (8229 Germantown Ave.).
Chef Albert Paris - yes, we'll always have Paris - and partners Robert and Benjamin Bynum went for a '30s-era Parisian look whose pressed tin ceiling, zinc bar, oversize antique mirrors and well-worn period furniture fit beautifully inside the circa-1894 building's ground floor. This space was occupied last by the Melting Pot.
Paris and the Bynums also run Heirloom, Relish, Warmdaddy's and Green Soul.