Archive: May, 2010
Michael Klein, Philly.com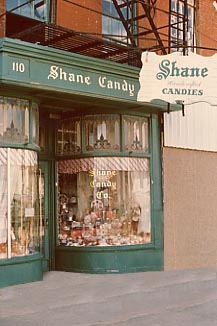 Shane Candies, which has been housed in a circa-1857 building at 110 Market St. in Old City since 1911, has been sold.
Buyers are brothers Eric and Ryan Berley, who own the retro classic ice cream shop Franklin Franklin a few doors away at 116 Market.
The Berleys will move their ice-cream-making from rented space atop Honey's Sit N Eat in Northern Liberties into an upper floor of Shane's. They plan to renovate the store and keep the Shane's name.
Michael Klein, Philly.com
Del Frisco's steak house at 15th and Chestnut Streets had its day of cinematic magic Monday, joining Union Trust, Happy Rooster, Marathon Grill, Paradigm, Dolce, and Butcher & Singer as restaurant locations used in the thriller The Dark Fields starring Bradley Cooper and Robert De Niro.
Monday's all-day shoot ran from 3 a.m. till dinnertime for Del's general manager Rich Furino, who told me that he got a perk for cooking for and feeding actors Cooper, De Niro, Darren Goldstein, and Robert John Burke, plus about 200 business-dressed extras in the dining room.
Director Neil Burger had Furino play a patron "walking into" the restaurant with two extras as the two stars walked out at the end of a scene.
Michael Klein, Philly.com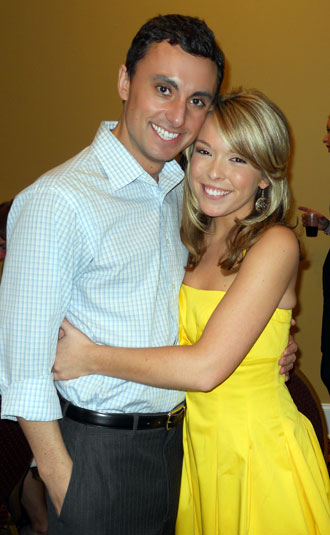 Wedding bells are on the way for John Gonzalez, 33, the Inquirer sports columnist/97.5 midday sports-talk co-host, and Colleen Wolfe, 25, host of the PHL Phillies postgame show.
Gonzo tells me that they've known each other for a while and that he proposed in Cape May.
She grew up in Horsham, went to Hatboro-Horsham, and then Drexel. Worked for Lynn Doyle at CN8, then became a booking producer and on-air personality at Comcast SportsNet. Now she's a producer and on-air talent for the company that does the Phils postgame show for PHL 17, as well as the Inside Golf show on CSN.

Gonzo grew up in Media, went to Penncrest, then La Salle. Before landing at 400 N. Broad, he moved to Dallas to become a columnist for the Village Voice Media paper there and then moved to Boston to become a senior writer for Philly Mag's sister mag, Boston.
Michael Klein, Philly.com
Just goes to show you that when one pan-Asian restaurant closes (e.g. Chew Man Chu), there's another on the way.
Doors opened Monday on Muntin, on the ground floor of Center City One (1326 Spruce St., 215-546-0180). Owners Jian Liu and Frankie Lin have ties to Aikou in Flemington, N.J.
Pretty much the same dark-wood-sedate atmosphere as it was under Misso, which closed in January. (It's certainly not the bright clatter that was Chew Man Chu.)
Michael Klein, Philly.com
After six months, Marty Grims has pulled the plug on Chew Man Chu, his pan-Asian restaurant at the Symphony House at Broad and Pine Streets.
He told me he's looking to sell it or obtain a strategic partner.
Grims said a negative review and the resulting resignation of chef Tyson Wong did it in.
Michael Klein, Philly.com
Sunday night is last call at Swanky Bubbles' Cherry Hill location, which has been open in Short Hills Shopping Center since early 2007. Ran out of effervescence, you might say.
The Old City original will remain.
Ira Zipper, who's been helping to run Cherry Hill, can be found at his "other" job, Ladder 15, at 1528 Sansom St.
Michael Klein, Philly.com
Robert De Niro, here shooting The Dark Fields, escorted his wife, Grace Hightower, to a late-ish Saturday dinner at Butcher & Singer steak house at 15th and Walnut Streets.
The couple were recognized by at least one neighboring table, whose occupants respectfully didn't cause a scene. Restaurateur Stephen Starr was seen speaking briefly to them.
De Niro has a few days' more work here, including scenes Monday at Del Frisco's steak house at 15th and Chestnut Streets.
Michael Klein, Philly.com
The Broadway smash Jersey Boys -- which detailed the creation of the Four Seasons with Frankie Valli, Bob Gaudio, Tommy DeVito, and Nick Massi -- had a happy ending.
So does this story about Gaudio's daughter Lisa, who is in jewelry sales.
Twenty-six years after she and Havertown-raised Jimmy Kazanjian broke off their engagement because the time wasn't right, the two got hitched Saturday night at Radnor Hunt, the Main Line equestrian club.