Archive: August, 2010
Michael Klein, Philly.com
Two moves in the burbs:
Ristorante Castello, a white-tablecloth Italian BYOB in North Wales for several years, has packed up and moved into the space that formerly was Alison at Blue Bell at 721 Skippack Pike (215-283-9500). Same menu, same staff, same luxe environs. And same website, though the restaurant location has not been updated. (You simply must see the Flash on this website...) It's open daily for lunch and dinner; Sunday hours start at 3 p.m.
Michael Stamatiades, whose Athens restaurant ran for 20 years in three locations in Cherry Hill before he closed three years ago (and gave way to Kuzina by Sofia), is coming back to Cherry Hill. Santorini Cafe will open around Aug. 17 in the spot at 1601 Chapel Ave. that previously was home to Melange (856-663-8400). It'll be open for lunch and dinner Tuesdays through Sundays. Greek menu, blue-and-white Greek decor, moderate prices. (hat-tip to a reader)
Michael Klein, Philly.com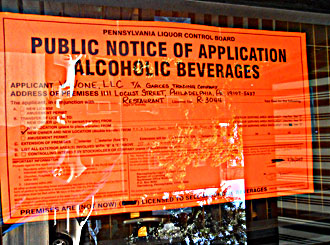 Garces Trading Company opened six months ago at 1111 Locust St. to great fanfare, not only for the tasty eats from Philly's Iron Chef but for the first-of-its-kind wine shop operated therein by the Pennsylvania Liquor Control Board.
Plaudits burbled forth: A BYOB restaurant with one-stop shopping! Buy your vino and simply stroll to a table! Enjoy, enjoy -- no corkage! No mark-ups!
The joy was lost, however, on rival restaurateurs -- e.g. bars that have to pay for licensing and insurance for their own state-sanctioned operations. They sued, complaining that the LCB had unleveled the playing field.
Michael Klein, Philly.com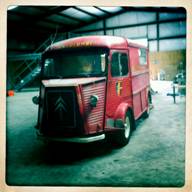 Need a Sunday activity? Check out what two of my favorite entrepreneurs, Todd Carmichael and Jean-Philippe "JP" Iberti of La Colombe, will be doing at 1 p.m. Aug. 8 behind the cafe at 130 S. 19th St., just north of Rittenhouse Square. They'll roast coffee in a 1967 French panel van (originally used as an ambulance and later as a bread-delivery truck) that pulls a circa-1930s Vittoria roaster (found during a trip to Bologna); they refurbished the beast and converted it to propane. Why? Because these guys never do things simply, or for that matter by the book. (Especially Carmichael, with his physical feats and his taste in women.) La Colombe roasted its own coffee on-site at its founding 17 years ago. If you miss this event, no worries. Carmichael says it will be rolled around the city for various promotional events.

Jolly Weldon of Jolly's Dueling Piano Bar (2006 Chestnut St.) will get in touch with his Baltimore roots -- he and his brother Garth ran the Prime Rib there and in Washington for many years -- with a casual Maryland-style crabhouse at the former Mio Sogno at 15th Street and Oregon Avenue (2650 S. 15th St.). It will have a piano bar, but not dueling pianos, he said. Steaks on the menu, eight craft beers, 50 seats outside/90 inside. There's no name yet, and he's looking at a September opening.

Lisa Fernandez, a third-year student at Philadelphia College of Osteopathic Medicine, and her fiancé, Zach Gaynor, who works at Rum Bar (2005 Walnut St.) are contestants on Wednesday's episode of Food Network's 24 Hour Restaurant Battle (10 p.m. Wednesday, August 11). They'll do retro comfort food. Viewing party will be at Rum Bar.
Michael Klein, Philly.com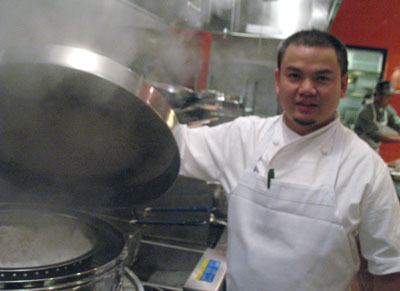 When I last spoke with Tyson Wong Ophaso, the energetic Laotian-born Chinese chef was leaving his post at Chew Man Chu, stung by a negative review. The restaurant, at Broad and Pine, closed soon after.
I just caught up with him, and he says he is getting back into the game with a food truck called Bee-Innovation.
Bee-Innovation?
Michael Klein, Philly.com
Jon Myerow is saying "the end of August" for the opening of Biba in the Left Bank in University City (3131 Walnut St., 215-222-2422), which he is positioning as Tria's "fun little cousin."
That is, a chic wine/beer bar serving light fare, including cheese, charcuterie, and chocolate -- 26 wines by the glass and 10 beers -- with 32 communal seats inside and 12 on the patio. No Wi-Fi, televisions, live music, or karaoke.

Philly's Brett Webber Architects is going for a farmhouse-industrial atmosphere, highlighted by redwood millwork created from a century-old water tower.
Hours will be noon to midnight Sundays through Thursdays, till 1 a.m. Fridays and Saturdays.
Michael Klein, Philly.com
Waiters and waitresses... The Barenaked Ladies appreciate good service.
During Wednesday's show in Camden, Ed Robertson said: "I'd like to thank the good people of Cherry Hill for taking such good care of on our day off yesterday. Especially the fine service at McCormick & Schmick's in the mall. Our fine server came back at the end of our meal and said, 'I finally figured out who you are....You look just like the guy from Lost."
Kevin Hearn dedicated a song to "Carl, who showed us a real good time at Chris' Jazz Cafe last night."
Michael Klein, Philly.com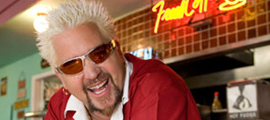 Guy Fieri has been in town this week, doing segments at a few joints for Food Network's Diners, Drive-Ins and Dives. He visited Good Dog Bar in Center City, Honey's Sit 'N Eat in Northern Liberties, Memphis Taproom in Port Richmond/Kensington, and the Pineville Tavern in Bucks County. No scheduled dates for the episodes. (UPDATED)
New chef at the Wilmington landmark Harry's Savoy Grill is Tony Clark, who spent 10 years as a private chef, as reported yesterday by Patty Talorico of the Wilmington News-Journal. Clark's last shindig was an engagement party on Washington Square for Chelsea Clinton and Marc Mezvinsky. Clark was one of the crew back in the 1980s and 1990s at the Four Seasons and briefly owned Tony Clark on the corner of Broad and Sansom Streets, where the TD Bank is now. For a trip down Memory Lane, here's an Inquirer Magazine profile I did back in 1999.
Michael Klein, Philly.com
Two fairly prominent restaurant projects have been bubbling under the radar.

Letting them surface now ...
One: The former Le Bus/Bubble House at 3402-04 Sansom St. in University City is destined to become a branch of Baby Blues, a BBQ-blues joint out of Venice and West Hollywood, Calif. (there's one in San Francisco, too). Owners Danny Fischer (he's a Philly guy, ninth of 10 kids, whose dad, Lou, was a big cheese with the Gino's Burgers chain) and Rick McCarthy (a Jersey guy whose brother owned a soul-food stand in Georgia) say it's on the way. "As far as when, giving you an opening date is like predicting a hurricane in the fall. It's gonna happen, but lord only knows what exact date -- October or November," Fischer says. Meanwhile, the episode of Diners, Drive-Ins and Dives set at the Venice location ought get you hungry.