Archive: August, 2009
Michael Klein, Philly.com
Sept. 4 is the finale for Gayle, Daniel Stern's ambitious BYO, after nearly four years on Third Street in Queen Village. (Not a good summer for that block, what with Ansill pulling the plug.)
Stern's publicist tells me that it's closing because the lease is up. It's not yet known if he will stage some blow-out last meal, though a Sept. 9 open house "toast" is planned.
In March, Gayle put its liquor license in safekeeping to go the BYOB route.
Michael Klein, Philly.com
Good to know Eric Ripert has his chefs' backs.
The celebrated chef, who installed Northeast Philly's Jennifer Carroll as chef de cuisine at his signature 10 Arts restaurant in the Ritz-Carlton last year, tells me he'll visit Wednesday (8/19) for a viewing party surrounding Carroll's debut as a contestant on Bravo's Top Chef.
Ripert initially wanted to keep word of his visit a secret, but ...
Michael Klein, Philly.com
Now who didn't see this one coming?
One week after opening Verdad -- the Euro tapas-oriented restaurant on Bryn Mawr's main drag -- chef Nick Farina has closed Blush, his three-year-old upscale American restaurant/lounge on nearby Merion Avenue.
Blush staff will move to Verdad.
Michael Klein, Philly.com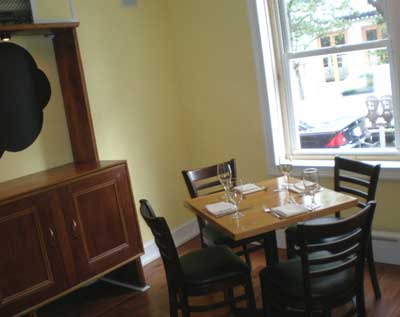 Thursday night (8/13) marks a new chapter in the life of Meritage, which has seen a few reconceptualizations in its five years at 20th and Lombard.
A 10-day work order by owners Michele DiPietro and Irene Landy has yielded hardwood floors, new windows and tables, and high-top seating across from the bar. The color scheme has reverted to yellow.
Prices have come down. New chef Anne Elizabeth Coll, a Susanna Foo alumna, is rolling out a menu -- nothing is over $21 -- that includes a few Asian influences.
Michael Klein, Philly.com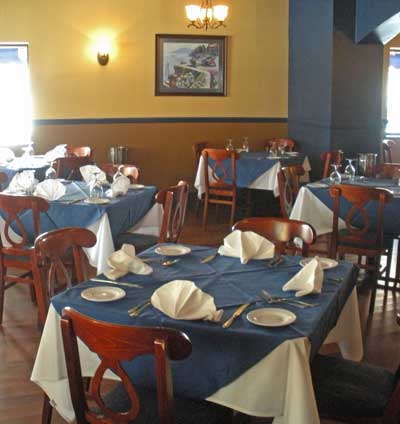 Mezza Luna's move a block away, into the corner of Eighth and Christian Streets, is almost complete.
Owner Pietro "Pete" D'abbraccio expects to open Thursday (8/13) for dinner; at midday Wednesday, he was waiting for the installation of a bar top. The liquor license is not yet in hand, so it'll be BYOB at the outset.
The door of its former home for 10 years, at 763 S. Eighth St., has an ominous sign indicating that the landlord took possession of the premises and changed the locks.
Michael Klein, Philly.com
Lots of last-minute hammering going on in Northern Liberties.
Kong -- the Hong Kong-style street-food bistro from Michael O'Halloran and wife Sophia Lee (partnered with Old City's Luca Sena) -- is bracing for a Saturday (8/15) opening at 702 N. Second St., formerly Sovalo. There's a Chinese lion dance scheduled for 5:30.
Here's how Michael O'Halloran, who owns Bistro 7 in Old City, got to "Hong Kong street food." His mother-in-law, Ping Suet Chiu, was born there, and they return to visit family.
Michael Klein, Philly.com

Thursday morning on Fox29's Good Day Philadelphia, anchor Kerri-Lee Halkett will deliver an advisory on self-defense, inspired by an incident two weeks ago in which a man tried to get into her hotel room in Bar Harbor, Maine, at 4 a.m.

In a posting on her Facebook page only hours after the July 31 incident, Halkett described the intruder as wearing a mask and gloves and carrying a crowbar. She said she got in his face and told him to leave, and the man fled. Police responded to a 911 call within moments, according to accounts.

Her friend, New York anchor Jodi Applegate, asleep in the room and wearing earplugs, told the Mount Desert Islander newspaper that she was awakened by Halkett's screaming and saw a man in the doorway.

In a story posted Wednesday morning on the Islander's Web site, Police Chief Nathan Young questioned Halkett's description: "We haven't had any incidents like this with a masked man running around Bar Harbor." In an interview today, he also said that Halkett didn't tell his officers about a mask at the time.

That doesn't square with the accounts of two women at the Ledgelawn Inn. Manager Dawn Lueck told me today that moments before Halkett called police, someone tried to gain access to a housekeeper's room downstairs. The housekeeper, who asked that her name not be used, told me that she crept out and found Halkett outside of her room, phoning police. Lueck and the housekeeper said police didn't talk to them.
The housekeeper said Halkett had indeed told police that the man wore a mask and carried something.

"I stand totally behind my initial statement," Halkett said. "It's the absolute truth. When it happened, I did the first thing that came to mind: I responded." She said she'd address the issue on Thursday's show and "after that, I'm moving on."
(This post has been edited based on additional reporting.)
Michael Klein, Philly.com
Buoyed by the recent success of Azie on Main (which replaced the upper half of Maia in Villanova), Win Signature Restaurants is aiming for a Sept. 1 opening of Parker's Prime in Newtown Square.
PP will fill the space at 4755 West Chester Pike left by Roux 3.
The early look shows tile intermingled with natural accents, leather, flagstone -- in a word, "handsome." The walls are painted a deep chocolate brown and one of the circular banquettes is being transformed into a wine tower with a mosaic floor.