Archive: July, 2009
Michael Klein, Philly.com
Denzel Washington stunned staff by stopping at the Rita's* at Island and Passyunk Avenues with an aide and a bodyguard, and he let on that he is staying here this summer.
Washington has a soft spot for Philadelphia -- the city, if not the Oscar-winning movie he shot here in late 1992 with Tom Hanks.
His son Malcolm has enrolled at the University of Pennsylvania, while his daughter (and Malcolm's twin) Olivia is attending college on the East Coast.
Michael Klein, Philly.com
Mark Tropea is looking at Tuesday (July 21) as the opening night of Sonata Restaurant, the BYOB taking over the spot in Liberties Walk in Northern Liberties that previously housed Swallow (1030 N. American St., 215-238-1240).
When I wrote about the deal on June 5, Tropea said he would open in July, and he's made good on his promise.
In a press release, Tropea said he'd offer "contemporary American fare in inventive and unique presentations. Its menu boasts savory ingredients infused with flavors of the summer."
Michael Klein, Philly.com
The food court downstairs at the Bellevue will host its fourth annual Sandwich Make-Off.
The general public will vote from 11 a.m. to 2 p.m. Monday (July 20).
On Wednesday from noon to 1 p.m., they bring in the celebs: This year, TV meteorologists John Bolaris of Fox 29, Glenn "Hurricane" Schwartz of NBC10 and Kathy Orr of CBS3. Of course, it's indoors.
Michael Klein, Philly.com
JD McGillicuddy's will take over The Freehouse at 11 N. Wayne Ave. in Wayne, co-owner Matt Thornton confirms.
The rumor, circulating earlier in the week, was picked up early today by Main Line Dine.
Thornton says he and his family -- with associate Eric Eberz in charge -- will open Aug. 1 after a paint job and the hanging of some pictures. He said he was unaware of "plumbing issues" that had reported vexed previous ownership.
Michael Klein, Philly.com
In bits and pieces, details about the dining offered at Center City's next two hotels is dribbling out.
Le Méridien, under construction at 1421 Arch St. (across from the Municipal Services Building, and a block from what will be the new expansion of the Pennsylvania Convention Center), has targeted Oct. 15 as the opening date of its restaurant, Amuse.
Though the concept will bar/brasserie, Amuse will be pronounced the American way.
Michael Klein, Philly.com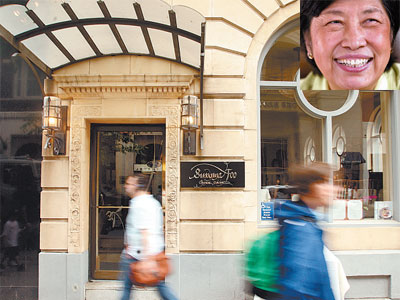 Susanna Foo closed her eponymous restaurant at 1512 Walnut St. last month, cashing out after 22 years as a developer wants to convert the building into retail with apartments above.
You think she got her kids to hire a U-Haul to get everything out of there? No. She called DoubleTake Auctions, the same outfit that sold off everything from Brasserie Perrier earlier this year.
As you might imagine, owner Russell Heidenrich is one busy dude these days, what with restaurants closing down. He says he has four floors' full of equipment and supply, decorations, fixtures and electronics. This online auction will have more than 1,000 lots -- even the urinals in the men's rooms -- and he expects to pull in $150,000.
Michael Klein, Philly.com
Here's an all-time culinary first:
Rich Landau, chef/co-owner of the all-vegan Horizons (611 S. Seventh St.), has been booked to cook at the James Beard House in New York City.
Horizons will be the first vegan restaurant to be represented at the culinary temple.
Michael Klein, Philly.com
Seven-time Pro Bowler and former Eagle Brian Dawkins is with the Denver Broncos now, and so his house in Voorhees is on the market.
He's asking $555,000 for the four-bedroom Colonial on less than a third of an acre. He and his wife, Connie, paid $293,626 for the house in 1998, according to Camden County records.
They have moved up. Way up.