Archive: March, 2011
Michael Klein, Philly.com
Two Eagles are putting the sports in sports bar.
Todd Herremans and Brent Celek are investors in 879, now operating at 110 Chestnut St. in Old City after it replaced the short-lived Crocodile Philly last week.
The name is a contraction of the players' uniform numbers, 87 (Celek) and 79 (Herremans).
Michael Klein, Philly.com
Lots of Philly places are coming up on Food Network and the Cooking Channel.
Meat & Potatoes, Rahm Fama's tribute to meat on Food Network, will showcase an oldie but goodie -- Nick's Old Original Roast Beef -- on its season premiere (March 14). On the March 21 episode, Fama will dive boldly into the dry pot lamb from Han Chiang's temple to Szechuan, Han Dynasty (the episode is labeled "Meat With Heat"). And on April 4, Fama will snag space at Village Whiskey, where he'll eat Jose Garces' Whiskey King Burger (topped with applewood bacon, foie gras and bleu cheese). Episodes are at 10 p.m.
Outrageous Food, West Chester-bred Tom Pizzica's Food Network show that explores the freakier side of grub, will hit Smokin' Betty's on April 15 for the turducken burger, followed by an April 22 stop at Jake's Sandwich Board for the two-foot cheesesteak. Both episodes are at 10 p.m.
Michael Klein, Philly.com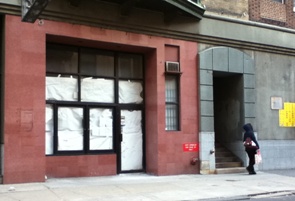 Hop Sing, the cook for the Cartwright family on the classic TV series Bonanza, made it a habit of threatening to quit and open a Laundromat.
And that random bit of mid-20th-century pop culture is the source of the name "Hop Sing Laundromat," attached to a most intriguing lounge coming to 1029 Race St., in the Chinatown storefront that used to be Indonesia restaurant.
It's been in development for about a year. Details have been scarce, at the insistence of management.
Michael Klein, Philly.com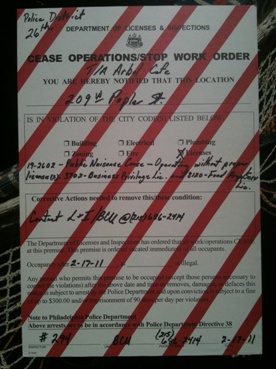 Arbol Cafe's 3½ years of bringing Paraguayan specialties to Northern Liberties has drawn to a close.
Co-owner Beth and Oscar Acuna are exploring their options.
Last month, the city cited the business for operating without food-prep and business-privilege licenses.
Michael Klein, Philly.com
Fresh Air host Terry Gross has a cameo role in The Beaver, a dramedy directed by and costarring Jodie Foster.
Mel Gibson, in what could be viewed as his comeback role, stars as an executive crippled by depression until he uses a hand puppet (a beaver) to do his talking. Foster plays his wife.
It's up for a screening on March 16 at the South by Southwest festival, and is expected in theaters in May.
Michael Klein, Philly.com
Today (3/3) is Day One for Great American Pub's third location, at 516 King St. in Paoli, sibling of GAPs in Conshohocken and Wayne.
It replaces Casey's, which closed last year.
GAP founder Chuck Hemcher Sr. proves what a small town this is. Casey's owner Steve Graham was a busboy for him at Hemcher's long-ago Timbers, on West Chester Pike in Newtown Square.
Michael Klein, Philly.com
The meaning of that orange liquor notice outside Franklin Mortgage & Investment Co., the classic speakeasy in the subterranean space at 112 S. 18th St.?
Partner Mike Welsh would not spill full details, but did allow that there are no plans to expand the Franklin or to move it.
It will be a new operation "elsewhere in the building," he said, and would be more food-oriented than the Franklin.
Michael Klein, Philly.com
La Locanda del Ghiottone, the granddaddy of Old City's BYOBs at Third and Cherry Streets, is down after a middle-of-the-night fire that the Philadelphia Fire Department says started in the kitchen.
The first alarm was reported at 3:31 a.m. and firefighters arrived three minutes later, according to a city report. Residents of the apartment building next door were routed. No injuries were reported.
Ghiottone owner Giuseppe Messina, who also owns Il Cantuccio nearby in Northern Liberties, told me this morning that he is awaiting the Health Department to assess the damage, and as such, to determine how long Ghiottone will be out of commission.