Archive: October, 2009
Michael Klein, Philly.com
Fresh from their National League championship win, the Phillies and significant others were whisked to Two Liberty Place for a special celebration on the 57th floor of the city's third-tallest building, which has 360-degree views.
They raised toasts to the south (Citizens Bank Park).
The skyscraper's top floor now houses the sales office, but it will be tricked out for the city's highest penthouse.
Michael Klein, Philly.com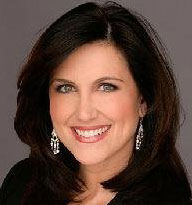 Dawn Stensland will end her eight-year run at Fox29 by the end of the year when her contract expires, a station spokeswoman said today.
Stensland's last day has not been determined.
In a Twitter message, she tweeted: "Fox is not renewing my contract. I wanted you to hear that directly from me. Thank you for all your love and support over the years."
Michael Klein, Philly.com
Finishing touches are being applied to Chew Man Chu, the pan-Asian restaurant opening on the ground-floor space formerly occupied by Du Jour in the Symphony House at Broad and Pine Streets.
Opening will be late next week. Marty Grims, who opened the Du Jour branch a little more than a year ago, told me that he envisions Chew Man Chu as a destination -- whereas Du Jour was more or less a default drop-in. The new concept is "good, honest, fresh, light food at a great price point."
By "great price point": check average will be about $25 a person.
Michael Klein, Philly.com
Munish Narula is continuing his rapid expansion of Tiffin, the Indian BYOB operation he opened three years ago out of a storefront at 712 W. Girard Ave.
He just signed a lease at 847 W. Lancaster Ave. in Bryn Mawr, and he hopes to open there in early 2010.
Here's the lineup:
Michael Klein, Philly.com

Randy Kotz is back on WYSP (94.1), his radio home throughout the 1980s.
Kotz, who parted company with WMMR (93.3) in February, is popping up here and there on overnights and weekends, mainly Sundays before Eagles coverage.
"It's a very incestuous business," Kotz says of his return to 'YSP.
Michael Klein, Philly.com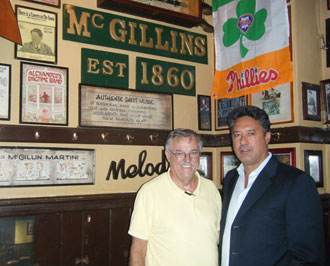 Ron Darling, the color commentator for TBS and former Mets pitcher, stopped at McGillin's in Center City yesterday for a lunch of shepherd's pie washed down with McGillin's 1860 IPA.
While he signed autographs, a McGillin's staffer called her roommate to say that Darling was there. The roommate said if the staffer got his autograph, she would not have to pay her half of the rent next month.
Darling signed, and the staffer now will have a few hundred bucks in her pocket.
Michael Klein, Philly.com
Three of the four chefs competing on last night's episode of the Food Network show Chopped were Phily folks, and it was Jeremy Duclut of georges' in Wayne who won the 10 grand.
Premise: Chefs have to create a three-course meal from a list of mystery ingredients, and chefs get "chopped" after each course. Duclut's basket contained eel, peaches, and peas for the appetizer course. Entree was butternut squash, oatmeal, shrimp, and Chinese pickled prunes. Dessert: sharp Cheddar, Saltine crackers, parsnips, and limoncello.
He vows that none of this stuff will appear on georges' menu.
Michael Klein, Philly.com
It's the final curtain for Ritz Filmbill, the giveaway entertainment mag that's been a part of the Ritz Theaters for 21 years.
"We don't have the business model to sustain it anymore," publisher Steven Duchovnay told me, repeating the refrain heard everywhere in the print realm: "Advertising is off."
The October issue is the last, he said.