Archive: October, 2008
Michael Klein, Philly.com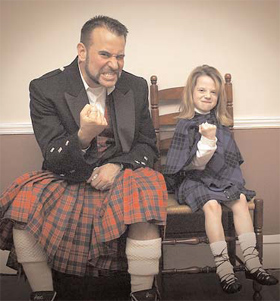 Drexel Hill has two serious eaters, both of whom broke world eating records Wednesday morning on the "Preston & Steve" show on WMMR.
Micah "Wing Kong" Collins ate 5 pounds, 4 ounces of baked beans in 58 seconds, breaking the International Federation of Competitive Eating's record of 1 minute, 25 seconds. (And surely breaking something else for the rest of the day.)
Next, Eric "Steakbellie" Livingston (left) ate 3 pounds of the Scottish treat haggis (sheep heart, lungs and intestines, roasted with oatmeal in a sheep's stomach) in 8 minutes. The record (1 pound in 2 minutes, 5 seconds) was held by a Scotsman.
Michael Klein, Philly.com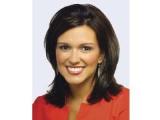 This post has been updated (5:45 p.m.):
NBC10 has confirmed the resignation of anchor Lori Delgado, who's been at the center of a bizarre series of events at the station this summer involving former anchor Vince DeMentri.
Delgado, a New Yorker whose husband is a New York lawyer, joined the station in January 2005.
Poll: CBS3 or NBC10: Who has better drama?

(1922 votes)
Michael Klein, Philly.com
Cambodian-born Jason Lay, who last worked for a company that handles bridge inspections, is overseeing Mi Lah Vegetarian (the name means "mercy"), which opens Thursday (10/9) at 218 S. 16th St., which last was Pita Pocket at 16th and Chancellor.

He's installed as chef Tyler Black, a veteran of Govinda's and Horizons, who is doing a moderate-priced menu (nothing over $17). Here's the dinner menu. The lunch menu is not printed yet, Lay says.
Michael Klein, Philly.com
Here's more on the shifting empire of restaurateur Cosimo Tricarico: He's turning Valentino on the Square (267 S. 19th St., off Rittenhouse Square) into DiVino, a wine-and-cheese bar that's supposed to open in two weeks. He's expanded his Caffe Valentino (1245 S. Third St., at Moyamensing and Wharton) into the second floor. The last piece of the puzzle was Valentino Ristorante (1328 Pine St.), which he sold. In a few weeks, it's to become Giorgio on Pine, a similarly rustic BYOB. Owner is Giorgio Giuliani, a former partner in the late Monte Carlo Living Room and Ristorante Primavera.
Michael Klein, Philly.com
With the Phillies' win over the Milwaukee Brewers, WXPN's Jim McGuinn and City Councilman Curtis Jones Jr. are cashing in.
At 6 p.m. Wednesday, McGuinn will "take over" Radio Milwaukee for an hour and (in his words) "tease [DJ] Scott [Mullins] mercilessly." McGuinn's Philly-centric playlist, to be heard also on WXPN (88.5) and XPN.org, will include artists such as the Roots, John Coltrane, the Hooters and Black Landlord, plus the McFadden & Whitehead chestnut "Ain't No Stoppin' Us Now."
Jones, who expects to collect a case of Usinger's sausage from his bet with Milwaukee Alderman Bob Bauman, has reached out to L.A. a wager with Councilman Tom LaBonge, who like Jones represents the Fourth District.
Michael Klein, Philly.com
Earth Bread + Brewery in Mount Airy, the brewpub/flatbread outlet that has been "finished" for months, has finally wrapped up its licensing issues and will open to the public Wednesday night or Thursday night.
Beer master Tom Baker will have four beers on tap: an English-style mild, French-style farmhouse-style ale, a local ale made with local hops (a guy had hops in his backyard, so it's called Sedgwick Pale Ale), and "smoked" wheat ale.
Michael Klein, Philly.com
Not only will Jody McDonald return this morning at 9 on ESPN 950 after heart surgery, he will pick up a permanent co-host: Harry Mayes, most recently the co-host of the Locker Room (7pm-11pm) with Dan Schwartzman.
Michael Klein, Philly.com

The word is not out there yet, so the shock waves haven't gotten too far past Logan Square:
Martin Hamann is leaving after 25 years at the Four Seasons Hotel -- seven of them as executive chef. He's headed to the Union League, which is planning a major revamping of its kitchens and dining. The Union League is enjoying rosy times as more of its members are living downtown. Its chef of 20 years, Dan Reilly, is leaving.
Hamann, only the second executive chef in the hotel's history, has not announced his last day, but he's expected to start at the Union League in November.
When asked about Hamann's status on Thursday, a hotel spokeswoman issued this statement:
"
Four Seasons Hotel Philadelphia is disappointed to announce the resignation of Executive Chef Martin Hamann. Marty has been a loyal and hardworking employee for the past 25 years, helping to develop the Fountain Restaurant into the premiere dining establishment in the city of Philadelphia. We will always be grateful to Marty for his dedication and service, and wish him well in his new endeavor."
The story of the earthy, Delaware County-raised Hamann, 50, is proof that you don't need some fancy pedigree or Euro breeding to rise to the top. He's known as "Chef," yes, but also as "Hambone" (a corruption of his last name) or just "Marty."
He was a truck dispatcher for the old Bulletin when it folded in 1982. He went to the Restaurant School for a new career and joined the Four Seasons under founding chef Jean-Marie Lacroix as an apprentice a few months after the hotel's opening. He rose to dinner chef by 1989.
When "Papa" Lacroix announced his retirement in 2001 (only to end up later at the Rittenhouse), Hamann replaced him. Hamann did not return my message Thursday night.
The hotel has not announced Hamann's successor, only to say that David Jansen would continue as chef de restaurant and Joe Drago would continue as banquet chef. A search is underway.

Given the Four Seasons' kitchen depth, patrons shouldn't notice much change, if anything.
You may have read about Hamann
last Sunday
in an Inquirer story about the hotel.