Archive: January, 2010
The first week of February* will mark the public opening of Maru Global (255 S. 10th St., 267-273-0567), a casual quick-serve in a storefront between Locust and Spruce, whose menu is focused on takoyaki, the puffy, bite-size, fried crepe balls, topped with sweet sauce.
The Japanese street food is traditionally studded with octopus, but Tokyo-born chef Ryo Igarashi and his wife, Nicole, both local restaurant veterans, are offering multiple varieties, including Philly cheesesteak, pizza, spicy shrimp, BBQ, and sweet-and-sour miso. The original, based on chopped scallion and red ginger, can be made to order with shrimp, chicken, sirloin, or -- yes -- octopus. They're sold six for $3.25.
They're also serving rice dishes, a stir-fry ramen dish known as yakisoba, and an assortment of salads, such as a Japanese Caesar, tofu and tomato, octopus, and wild seaweed, plus hand-cut fries.
marumenu
Michael Klein, Philly.com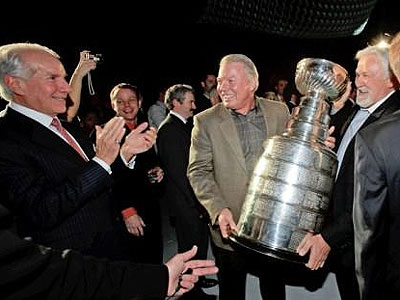 The Spectrum's last show was Pearl Jam on Oct. 31.
Right?
Not quite.
Michael Klein, Philly.com
Lady Gaga won't be in Atlantic City Saturday night.
Her show at the Borgata in Atlantic City is off and she won't host a benefit after she got sick just before her show last night in West Lafayette, Ind.
The Borgata says her doc diagnosed her with dehydration and exhaustion and urged her to rest. The Borgata date was one of three canceled shows. (Borgata will give refunds; questions: 1-866-900-4TIX.)
Michael Klein, Philly.com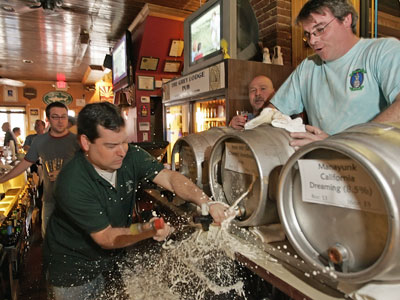 Maxim mag, which you read for the articles anyway, drops this bombshell in February's issue in a spread about beer:
"Sure, Portland, Oregon, still produces great suds (Widmer, Hopworks) — and, yes, you P-town natives are so cool because you all can telemark ski — but the crown of Best Beer Town has been swiped from you guys and smuggled back east to the scrappy and beer-soaked City of Brotherly Love."
The story gives a shout-out to Philly Beer Week and provides a history lesson ("The Constitution was hatched while dudes in wigs knocked back beer in Philadelphia taverns. Ben Franklin says so: 'Beer is living proof that God loves us and wants to see us happy.'").
Michael Klein, Philly.com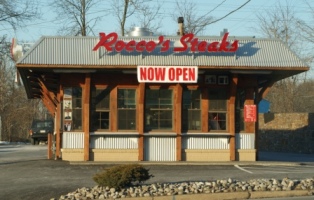 And to think all these years, you've been driving to a cheesesteak stand, getting out, and walking up to a window.
Rocco Desiderio has opened Rocco's Steaks in the former Tradewinds Drive Thru Coffee shack at 233 W. Lancaster Ave. in Paoli, down the pike from his former restaurant, Ristorante Verona in Malvern.
No need to get out of the car. Desiderio, who customarily dresses for work in an apron-topped designer suit, works the grill by the window.
Michael Klein, Philly.com
What kind of brave soul would open a year-round farmer's market in Philadelphia in the dead of winter?
A forward-thinking one. Just ask Kyle Perry, who's running one for developer Bart Blatstein at the Piazza at Schmidts in Northern Liberties, starting tomorrow.
"This is when we can get the better vendors," said Perry, who hopes to keep as many as he can once the weather breaks. The piazza's configuration of buildings minimizes westerly winds, and the vendors will bring their own plug-in space heaters.
Michael Klein, Philly.com
The James Beard House, the culinary mecca in New York, is really packing its schedule with Philadelphians.
Earlier this week, I told you about Le Bec-Fin's Nicholas Elmi and Georges Perrier going up for a Feb. 24 dinner.
Here are more:
Michael Klein, Philly.com
Vintage Irving, a wine bar in Union Square in New York, is Philly-bound, and is close to signing a lease at the Shops at Liberty Place.
Reps of both the restaurant and the shops confirmed the talks to me.
The space is on the second level, in a spot that was the Dale & Thomas popcorn store.