Archive: May, 2010
Michael Klein, Philly.com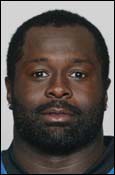 Hugh Douglas, the WIP/Fox29 sportster and former Eagles star, shot a scene Monday with Bradley Cooper for the movie The Dark Fields.
Douglas plays a high-stakes-poker player in the thriller. He has a burgeoning list of "acting" credits, according to IMDB, including scenes in The Nail.
The scene was shot inside a room at the Palomar hotel in Center City, which was decorated to look like a VIP lounge.
Michael Klein, Philly.com
Comcast SportsNet is putting its personalities out there for live web chats on Tuesday.
Jim Jackson, Steve Coates, and Rick Tocchet will start typing at 6:30 p.m. and carry right through the postgame show.
CSNPhilly.com also will have exclusive live intermission reports between each period of every Flyers playoff game. Below is the chat breakdown for Game Two:
Michael Klein, Philly.com
ESPN analyst/former Eagles QB Ron Jaworski sank a 25-foot putt to win Sunday's Ron Jaworski Celebrity Golf Challenge at Atlantic City Country Club -- and then treated onlookers to a wild victory dance.
He was paired with Curt Allen of Subaru of America. They donated their $30,000 winnings to United Way.
Michael Klein, Philly.com
Actor Kiefer Sutherland -- TV's Jack Bauer of the Fox series "24" -- watched Sunday's Flyers-Canadiens game from a suite with buddy Dave Andreychuk.
Sutherland is a beer-league player and professes allegiance to the Maple Leafs.
* Post corrected
Michael Klein, Philly.com
Noted Broadway composer Charles Strouse fell ill after receiving a lifetime achievement award Sunday afternoon at the Gershman Y in Center City and was admitted to a hospital for observation, according to a Y spokeswoman.
Strouse, 82, was being interviewed in front of about 90 guests by Warren Hoffman, the Y's director of arts and cultural programming, when he went pale and began to shake, the spokeswoman said.
An ambulance transported him to Pennsylvania Hospital. Strouse was expected to spend the night and return to his home in New York on Monday.
Michael Klein, Philly.com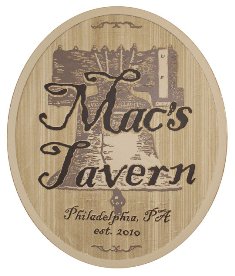 Almost ready for its close-up: Mac's Tavern, the real-life Philly bar at 226 Market St. from a band of St. Joseph's Prep alumni including It's Always Sunny in Philadelphia creator/star Rob McElhenney.
Targeted opening is the beginning to the middle of next week (May 24-ish).
The partners have hired Michael Suminski, most recently chef at the just-closed Ortlieb's Jazzhaus, as chef. Suminski started his career at the Four Seasons Biltmore Hotel in Santa Barbara, Calif., under Mario Batali. He also cooked at the now-defunct Azure in Northern Liberties. His gastro menu will be buttressed by 17 beers on tap, plus many bottles.
Michael Klein, Philly.com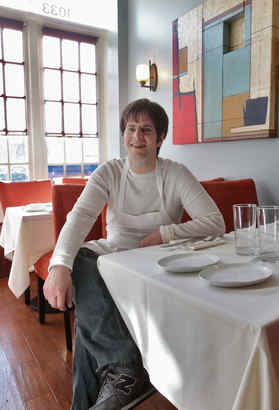 Thoreau (1033 Spring Garden St.), which opened only Feb. 2, is closed, chef/owner Mike Jackson has confirmed.
"Kind of a big mess" is how Jackson described the situation with his partners. He said they differed over work being done on an outdoor seating area.
He said he's back at Blue Sage, his vegetarian place in Southampton, "with my tail between my legs -- but energized," he said sheepishly.
Michael Klein, Philly.com
Comcast SportsNet says last night's Flyers-Bruins contest delivered the largest-ever Flyers audience for the network, breaking the previous high, set on May 9, 2000, when with Brian Boucher in goal, the Flyers defeated the Pittsburgh Penguins in Game Six to move on to the Eastern Conference Finals.
Last night's defeat of the Bruins, forcing Game 7, averaged a 10.1 rating (300,000 households) and peaked at a 14 rating (417,000 HHs) at 10:30 p.m.
Last night's record-setting rating bumps up the Flyers 2010 playoff average on Comcast SportsNet to a 6.3 rating (187,000 HHs) a 186% increase over the regular season average rating of 2.2.