Archive: May, 2009
Michael Klein
The Last Airbender, the M. Night Shyamalan action movie now filming in Nicetown and South Philly, needs "soldiers" and "villagers."
Men ages 18 to 40 to portray soldiers of Caucasian descent, with blue or green eyes
Men, women and children to portray villagers ages 17 to 80 of Korean, Japanese and Caucasian descent.
Work will start Monday and will run for several weeks. Pay varies. E-mail photos to lastairbendercasting@gmail.com with your ethnic background in the subject line.
Michael Klein
Phils shortstop Jimmy Rollins and his fiancee, Johari Smith, appear in a fashion spread in the June issue of Playboy, out next Friday.
The couple, who shot the feature over the winter in Florida, model fashions from designers such as Perry Ellis, French Connection and Nautica.
The mag quotes him thusly about baseball: "The Fall Classic? I see our boys vs. the Yankees. They spent all that money. They've got to be there. We've got a title to defend, so we're going to be there."
Michael Klein
Union Trust (717 Chestnut St.) has had its share of drama of late, what with the departure of chef-partner Terry White and last week's installation of Jose Garces/Stephen Starr alum Kevin Sbraga to straighten out the kitchen with partner Ed Doherty.
Sbraga was there only three days -- as a consultant, he says -- and now he's gone, on his way to Solea, the Mediterranean attached to the new W Hotel in South Beach. He'll be exec chef when it opens June 3.
But what a productive three days.
Michael Klein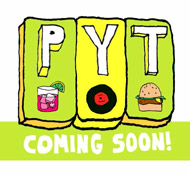 Nightlife promoter Tommy Up of Paper Street will have a nightspot called P.Y.T. in Northern Liberties' Piazza at Schmidts, on Second Street south of Germantown Avenue. The piazza's grand opening will be May 16, but P.Y.T. is a few weeks behind.
P.Y.T. ... is that a Michael Jackson thing? No, Up says, but the bar will carry an '80s feel. He's adding a pinball machine and photo booth. It will be indoor-outdoor and will open into the 80,000-square-foot piazza (which includes a 40- by 20-foot stage and a high-def, 26- by 16-foot Daktoniks LED screen).
Menu will be simple: mainly burgers. Up mentioned that he's planning a "Moe Greene special." As in Moe Greene from The Godfather? Oh, yeah. This was developer Bart Blatstein's idea. It's a burger with a hollowed-out center filled with cheese. (If you don't remember the movie and need a bit of imagery, check out this ... on an empty stomach.)
Michael Klein
Mike Stollenwerk of Bella Vista's much-praised Little Fish -- and yes, it's a little BYOB of but 22 seats -- is taking over the former Astral Plane at 1706-08 Lombard St. with a seafooder (plus bar).
The name at the moment is Fish, which will be spelled "fish" in a Courier typewriter font.
It'll feature a menu of cold, raw and cooked seafood, plus a few nonseafood items. It'll seat 50 plus 12 at the bar. Simple decor; if you frequented Sovalo in Northern Liberties, you'll recognize the chairs, which Stollenwerk bought from Joe Scarpone.
Michael Klein
Former Fox29 anchor Tom Burlington has sued, alleging that he was discriminated against -- and ultimately let go -- because he uttered a racial epithet during a news meeting while he and colleagues discussed a story about that very same word.
Here's his complaint.
Michael Klein
Dave & Buster's Plymouth Meeting will host a casting call for The Bachelor on Saturday, June 13 from 1 to 5 p.m.
Here's the full list of casting calls.
Michael Klein
Today on Oprah (4 p.m., WPVI):
JaiQuann Beckham of Wilmington, an honors student at Christiana High School in Newark, Del., who will attend Cabrini College, will be featured in a segment on students who can't afford a college education.
Now what do you think will happen? Hmmm.