Archive: March, 2011
Michael Klein, Philly.com
Fishtown's neighbors unanimously approved plans for Bubba's Texas BBQ at 19-21 W. Girard Ave. last night, paving the way for a zoning hearing set for March 23. Owners did not bring along their smoker, as they wanted to play the hearing fair and square. More info here.
---
Speaking of 'Q: Zachary's BBQ has opened at 1709 Markley St. in Norristown. Owner Keith Taylor briefly ran Holy Smoke in Roxborough.
---
La Locanda del Ghiottone, the Old City BYOB hit by fire last week, is being rebuilt. Owner Giuseppe Messina says he's a couple of weeks away.
Michael Klein, Philly.com

This has to be Farm Month.
There's The Farmer's Daughter, newly cooking at Normandy Farm in Blue Bell.
Thursday (3/10) marks the debut of The Farm & Fisherman, a BYOB in Wash West.
Michael Klein, Philly.com
Here's a combo: doughnuts and coffee and fried chicken.
And here's another combo: restaurateurs Steven Cook and Michael Solomonov (of Zahav, Xochitl, and Percy Street Barbecue), BODHi Coffee owners Thomas Henneman and Bob Logue, and foodista Felicia D'Ambrosio.
The project is called Federal Donuts, and it will come together this summer in a former pizza shop at Second and Manton Streets (1219 S. Second St.), a block off Federal Street. Ten seats will be available for dine-in; it will be mostly takeout and delivery.
Michael Klein, Philly.com
Aimee Olexy and Stephen Starr have decided on Talula's Garden as the name of their restaurant coming together on Washington Square. Opening is on target for early April.
Olexy says she needed to "feel" the space, where she and Starr ran a pop-up last summer. It's his former Washington Square, at 210 W. Washington Square. She describes it as the "urban sister" of her Talula's Table in Kennett Square -- an "elegant, classy farm-to-table. Actually, garden to table." Pressed for elaboration, she said she'd be growing some "vegetables and oddball herbs" on site. Serious cheese program, too.
As chef, she's hired Michael Santoro, previously chef de cuisine at Blue Duck Tavern in D.C., after a search by a headhunter. ("We complete each other's sentences," she told me.) He is relocating with his wife.
Michael Klein, Philly.com
Steve Lin, who got into the restaurant business in North Jersey in 2001, has opened a second location of his South Jersey Japanese BYOB restaurant, Megu, which he founded in Cherry Hill in 2004.
The newest spot is in Moorestown Commons (300 Young Ave., 856-780-6327), next to Barone's Tuscan Grill. Decor is modern, and the 10-seat sushi bar allows for plenty of conversation with the sushi chefs. The seating area is more or less cordoned off through a beaded curtain.
Specialties include crab-crusted salmon, crispy duck, and sushi-grade tuna as an entree.
Michael Klein, Philly.com
Director Duncan Jones (Moon), son of rock legend David Bowie, will be in Philly on Wednesday, March 23 to talk up his action-suspenser Source Code, which stars Jake Gyllenhaal, Michelle Monaghan, and Vera Farmiga and opens April 1.
Summit Entertainment will host a sneak preview that evening, with Jones in the house, at the Rave University City (40th and Walnut Streets) at 7:30 p.m.
Update: All passes are spoken for.
Michael Klein, Philly.com
Cafe, a Philly produced and shot film by Marc Erlbaum, will open the 16th International Family Film Festival in Hollywood on March 16, as the Hollywood Reporter wrote over the weekend.
The low-budget indie, an ensemble piece about life in a coffee shop, was shot here in spring 2009 with Jennifer Love Hewitt and Jamie Kennedy, then a couple.
Erlbaum wrote the screenplay at West Philly's Green Line Cafe. Also in the cast are Daniel Eric Gold (Matt in Ugly Betty) and Alexa Vega (Carmen Cortez in Spy Kids).
Michael Klein, Philly.com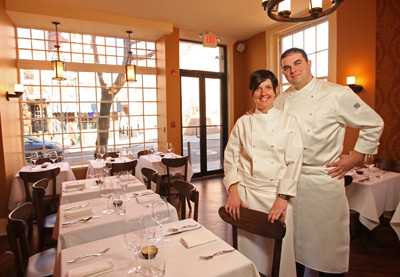 Chefs-spouses Josh Lawler and Colleen Kelly-Lawler are gearing up for Thursday, March 10's opening night of The Farm and Fisherman, their 30-seat, white-tablecloth BYOB at 1120 Pine St. (267-687-1555), in the former Paul.
Lawler, a Conshohocken native and Drexel grad most recently chef de cuisine at the farm-to-table mecca Blue Hill at Stone Barns in Upstate New York, plans to celebrate regional and sustainable produce, meat, and fish.
Kelly-Lawler, also a Drexel grad and a chef in her own right, will run the front of the house. ("I see more of her now than I ever did," Lawler said.)