Archive: February, 2009
Michael Klein, Philly.com
Three thousand people have been invited to Saturday night's grand-opening party for the stylish steakhouse at the former Kellmer's store at 717 Chestnut St. near Washington Square. Workers are working 24/7 to get it ready for then, but the public opening, which had been scheduled for Monday, is on hold.
Partner Ed Doherty says it'll be ready Friday the 13th for dinner.
UT initially had been due to open last summer, then fall, and then last week.
Michael Klein, Philly.com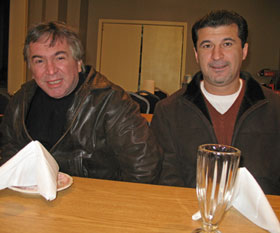 S&H Kebab House, at 611 E. Passyunk Ave. (it's the former home of Overtures near Fifth and South), will surely draw crowds on Tuesday, its first day.
The BYOB's owners Sal Kucuk and chef Huseyin Yuksel, whose modest-priced menu will reflect their Turkish heritage, will give food away -- including doner kebabs and soup (lentil or chicken) -- from 4 to 9 p.m.
Despite its bare-topped tables, S&H has a homey feel (berber carpeting, sconces) and an adjacent party room that seats 50.
Michael Klein, Philly.com
In a refreshing bit of humility, NBC10 chief meteorologist Glenn "Hurricane" Schwartz has apologized for blowing Tuesday's forecast.
He's been mea-culpa-ing all afternoon, explaining his error.
"I was wrong -- at least for a good part of the area.
Michael Klein, Philly.com

Dev Patel, star of "Slumdog Millionaire," has been cast in "The Last Airbender," the M. Night Shyamalan action film that gets underway here in March.
For Saturday's open casting call in Philly, producers are particularly looking for people of Asian Indian descent.
Michael Klein, Philly.com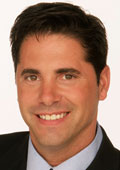 Meteorologist Rob Guarino, whose Fox29 contract was not renewed 13 months ago, is alive and well and working in Albuquerque, N.M.
And from 1,750 miles away, he's claiming victory for his forecast of yesterday's snowstorm. On the early evening news last night, all the pros in town -- TV, Accu-Weather, the National Weather Service -- were saying that the snow was ending.
It was Guarino who told readers of his blog about a second part of the storm that started after 7 p.m. and seemed to catch plow crews by surprise. (While at Fox29, Guarino launched MyWeatherLive.com, collecting forecasts from meteorologists and weather hobbyists around the country. It's bright, fairly well-written and easy to understand; such terms as "troughs" and "mesoscale banding" come through clear in context. He claims 1.5 million page views since Jan. 1.)
Michael Klein, Philly.com
Al Paris and George Parkinson are converting Mantra, their pan-Asian eatery on 18th Street near Sansom, into an Italian concept called Bar Amalfi. (Pan-Asian is overdone around Rittenhouse, they say.)
The last night as Mantra will be Saturday. A cosmetic application (new artwork and china) will take a few days. Plan is to open as Bar Amalfi on Feb. 11 or Feb. 12. It'll be dinner only. Lunch will come later, they say.
Paris, who also has a hand in at Pat Bombino's in South Philly, is talking about such dishes as his nonni's meatballs, short-rib Bolognese, honey balsamic suckling ribs, and lobster ravioli. Prices will be $8 to $12 for apps; $10 to $12 for salads; $12 to $16 for pastas; and $12 to $18 for entrees. Since the cuisine of Amalfi is primarily pastas, flatbreads, pork and seafood, there won't be steak on the menu. But there will be four desserts: chocolate bread pudding, cannoli, cheesecake and tiramisu.
Michael Klein, Philly.com

Bravo's Top Chef is doing open calls around the country for the sixth season.
Philly's will be Wednesday, March 4 from 10 a.m. to 2 p.m. at Nineteen (aka XIX) at the Park Hyatt at the Bellevue.
There will be one in New York on Sunday, March 1 from 10 a.m. to 2 p.m. at CraftSteak Restaurant in Lower Manhattan.
Michael Klein, Philly.com

Gerald Kolpan, features reporter at Fox29 for nearly 21 years, was let go today, the station confirmed. His contract was up yesterday.
Kolpan is on the brink of a Big Literary Achievement, as his debut novel Etta is due in stores in March. The book -- a piece of historical fiction about Etta Place, who rode with the Wild Bunch (Butch Cassidy and the Sundance Kid) -- has gotten all kinds of great prepub buzz. He'll do a reading at the Free Library in April.
Michael Klein, Philly.com
Mel Glickstein, who's owned Mel's Italian in Bala Cynwyd for 23 years, says he's pulled the plug on Benny's, a deli he was planning at 145 Montgomery Ave.
Glickstein says the deal, for which he and the building owner had a verbal agreement, was too expensive when pen went to paper.
So the Lower Merion deli war will continue between the nearby Murray's and Hymie's.
Michael Klein, Philly.com
Jon Bon Jovi weighs in on allegations that the Philadelphia Soul owes $125,000 in back pay to its former ticket-sales manager. At least that's what online humor mag Philadelphia Turkey ("News Youse Can Use") says.
Here's my article about the actual lawsuit, for which there's been no comment from the rocker or his Soul partners.